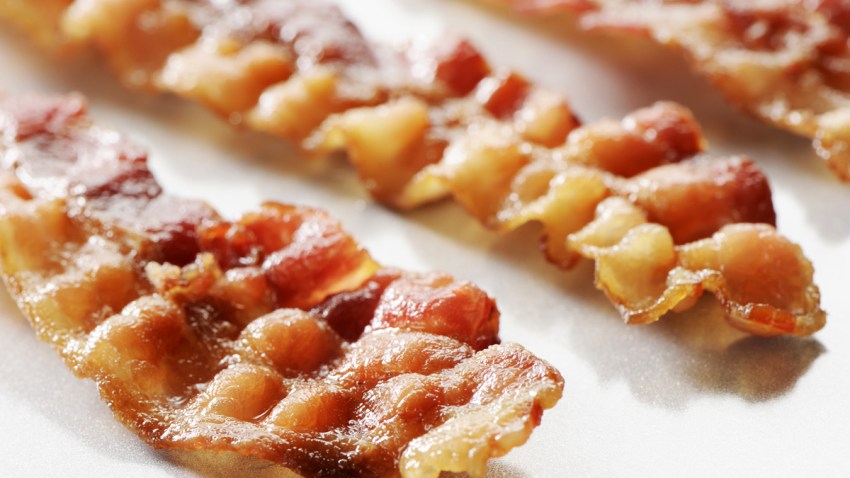 THE SALTY SECTORS: It's an honest question: What sectors, segments, and corners of our culture has bacon not fully owned by this point? Cuisine, yes, obviously, with an emphasis on breakfast. T-shirt design, you betcha; many a hipster tee has been built around the salty strip's iconography. Jewelry? Bacon earrings and necklaces are things. Cosmetics? Bacon lip balm exists. And beverages? Beer that's gone bacon and Bloody Marys adorned with the grease-yum garnish are common. Truly, it's only a matter of time before bacon has its own television series, its own sports team, and maybe a cruise ship or two. Until that time we can enjoy it at its bigger gatherings, like the Big Bite Bacon Fest, a chewy to-do so large it lands at two different spots over the summer.
"THE DIVERSITY OF BACON": That's one of the themes of the savory happening, which sizzles at the San Diego County Fair on July 5 and at the Queen Mary on Aug. 2. This theme means you'll see the strip in all of its forms, from craft beers flavored with its smokey sweetness to bacon donuts and beyond. There's a cooking competition, too, and the winner goes on to the World Food Championship in Las Vegas come November. Yep, bacon's big. So big that the Big Bite Bacon Fest features activities like Bacon Hole, a Big Daddy Bacon Pageant, and Pig Pong. Should we type that again, in case you didn't quite believe it? Okay: Pig Pong. Satisfied?
IF YOU JUST DESIRE... straight-up salty flavorfulness, go for the bacon tastings and bacon-based dishes. Those'll be around, too. It's true that breakfast's superstar element has entered just about every sector now, but going back to the classics -- two strips, for snacking, on a plate -- is an a-ok to approach one of the planet's buzziest foodstuffs.
Copyright FREEL - NBC Local Media