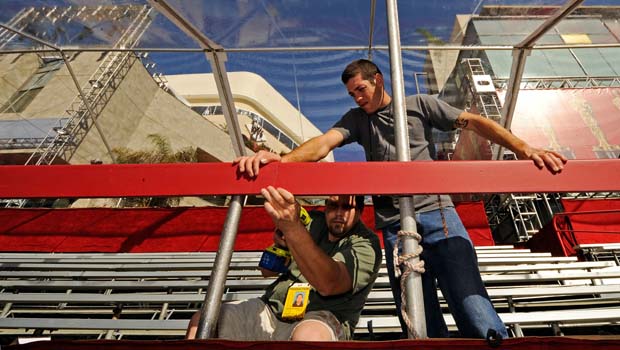 The list grows longer.
While every city recognizes its own "fall is coming" signs, the signs around Los Angeles tend to be truly of our city. Try-outs for the theme parks' Halloween spectaculars is a major one. Another? Talk of those always popular bleacher seats outside the Academy Awards.
The talk has heated up with word that the Academy of Motion Picture Arts and Sciences will open its 2011 bleacher drawing on Monday, Sept. 13. This date isn't quite a half year ahead of the awards, which are scheduled for Sunday, Feb. 27 at the Kodak Theatre, but pretty close.
The drawing wraps at midnight EST on Sunday, Sept. 19. There will soon be details and rules and have-to-knows posted, so, bleacher-wanters, best watch this space. And practice shouting the names of the stars you think will be on the red carpet. We're pre-practice-shouting Jeff Bridges for "True Grit." We can pre-practice-shouting months ahead of a film's release, right?
Well, we're just glad Mr. Bridges will be there that night, as is tradition for the previous year's Best Actor winner. If he has a beard, bonus.
Copyright FREEL - NBC Local Media