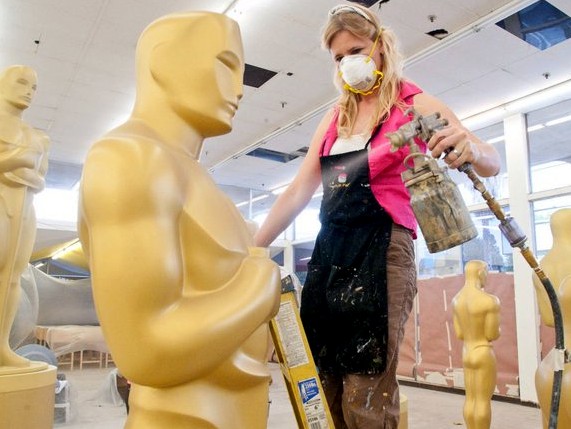 For some, it's the sight of the tree down the block going orange (if not in October, then in early December).
For others, it's getting their ballot in the mail.
For most of us, it's probably seeing the "For Your Consideration" ads popping up in the trades and newspapers well in advance of the Academy Awards.
There are numerous signs that our city's most well-known night of the year is on its way, but one of our favorites just happened to pop up over at the Academy's Facebook page on Tuesday, Oct. 19. That sign? The freshening of big statues' coat of paint.
The big Oscars are, even more than the couture and the red carpet, one of the most charming symbols of the night, which is set to hand out smaller statues on Feb. 27, 2011. We just love them is all. Fancy set-dressing, with some regalness and history to boot.
Sometimes, when standing on Hollywood Boulevard, we stop and wonder if we're standing in the exact spot an oversized Oscar has stood in, and sigh. And then, suddenly, out of the blue, Captain Jack and Spiderman walk by, and our reverie is broken.
For more pictures of the statue painting, browse here.
Copyright FREEL - NBC Local Media