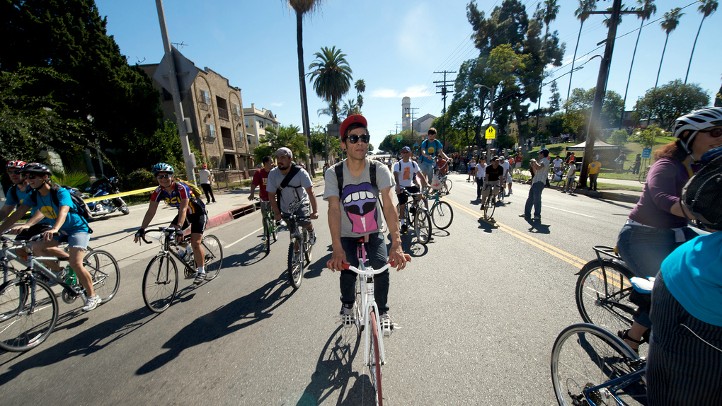 The concept of CicLAvia doesn't need a lot of gussying up or frou-frou-ing. Just send vehicles vamoosing from a few miles of LA streets, and then invite people on foot and people on bicycle and people on skates and people on pennyfarthings and people who want to cartwheel to come down and do their thing, sans traffic, for free.
It kicked off -- or perhaps kick(stand)ed off is more appropriate -- in 2010 here in Los Angeles, but the concept was born in Bogotá a few decades back. And of course, the concept of people walking and/or riding small, human-powered devices in streets devoid of cars goes much, much further back.
The next CicLAvia is on Sunday, April 10, and participants are invited to pedal or push or stroll or samba near MacArthur Park, and a specific route stretching both northwest and east from that central area. A portion of W. 7th makes up the biggest part of the route, with smaller turns onto other streets on both ends. Best keep this map handy.
The hours are 10 a.m. to 3 p.m. And again, it is free. And again, if you don't have a bike, no worries, just join in for a saunter. And if you have a pennyfarthing, you definitely, definitely should show up, and soak in all ohhing and aahing.
Copyright FREEL - NBC Local Media