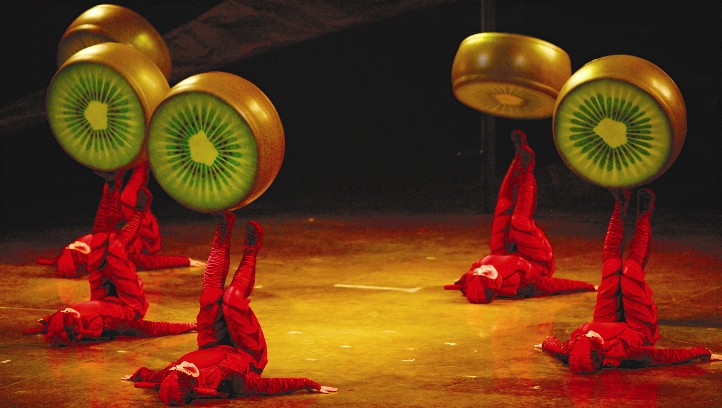 Acrobats spinning oversized kiwi slices while dressed as ants? It's official. We've just foud the photo we intend to stare at several more times today.
It's a concept dreamt up by the minds behind Cirque du Soleil. No surprise there. And it'll be no surprise that the show we're talking about is "OVO." Well, no surprise if you've caught the spectacular elsewhere -- it has been on the road for a couple of years -- or if you love your bugs. Because "OVO"? Bug mad. Totally.
And it is buzzing for Santa Monica Pier where it will open for a limited run on Jan. 20, 2012.
If you've seen a Cirque show at Santa Monica Pier in the past, we bet if you're wondering if the iconic blue-and-yellow-striped big top'll make the return. Mais oui.
And under the Grand Chapiteau? "(A) headlong rush into a colorful eco system teeming with life, where insects work, eat, crawl, flutter, play, fight, and look for love in a non-stop riot of energy and movement."
The name? Yep. OVO is "egg" in Portuguese.
General tickets go on sale on Sunday, Nov. 13. Buzzity buzz buzz.
Photo: Benoit Fontaine © 2009 Cirque du Soleil Inc. Costumes: Liz Vandal © 2009 Cirque du Soleil Inc.
Copyright FREEL - NBC Local Media