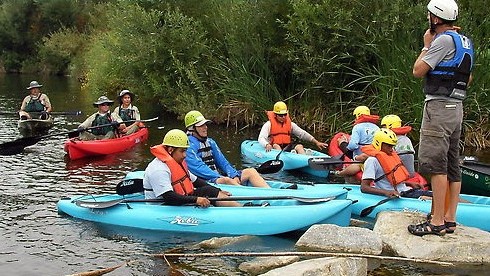 Been back to the old playground lately?
Maybe not. Maybe it is a strip mall. Maybe you moved away. Or maybe recreational use of the area has been banned for many years.
That's part of Dann Cahn's story. The 89-year-old film editor -- his amazing credit list boasts a ton of television shows from "I Love Lucy" to "The Beverly Hillbillies" -- once played along parts of the Los Angeles River. The reason? His family owned a goodly chunk of shore-close property back in the day. So the LA River, in short, was Mr. Cahn's playground.
How fun would it be to talk about the LA River like it once was your own backyard? Fun.
Now Mr. Cahn will be returning to his former stomping -- or paddling -- grounds on Friday, Sept. 23. That's when he and his son Danny will make a homecoming paddle down a memory-filled stretch of water. Daniel Cahn Jr. is the current president of the Motion Picture Editors Guild, so editing prowess, and river-love, obviously run in the family.
The Cahns were alerted to the possibility of a paddle when they heard that the river would be open to limited recreation for a few August and September weekends via the LA Conservation Corps Paddle the LA River Program. And the thought of returning home? To the place he once raised chickens? Well, it intrigued Mr. Cahn Senior. Of course.
We'd love to be in the back of his boat and hear a few tales of the shores he's passing. But we'll be sure to think of him next time we see his credits on the screen. He's got so many of them. Life along the river was quite the positive start for a long and interesting career.
Copyright FREEL - NBC Local Media