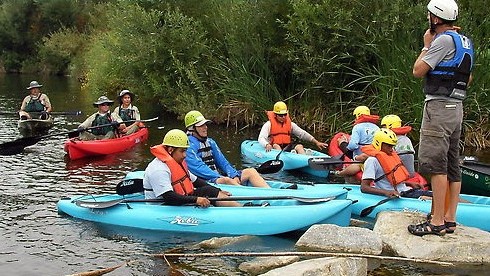 You know how you go to some cities -- say, San Antonio or Albuquerque -- and they have lots of landmarky locations lining their rivers? Restaurants, yes, and zoos, and places to sit and ponder, and shady walkways and other points of interest?
We want that for the LA River. No, we don't simply want to see it become a place of commerce, but we want to see people going to its banks for socializing and the spending of time.
But people who spend a lot of energy promoting LA River love are already raising its profile in countless important ways. Take Paddling the LA River, a program that'll set a lucky few hundred out on the waters armed with oars, enthusiasm and pluck. It's happening from Aug. 13 through Sept. 25, and on Saturdays and Sundays only.
Here's one of the headlines on this deal, of which there are many. The US Army Corps handles official river permits. And the organizers of the paddling program say that it's "the first time in local history that the Corps has allowed recreational boating on the Los Angeles River."
Pretty big stuff, yes? LA, as large as it is, doesn't afford many firsts anymore, because lots of things that can be done have been done. (Not to get deep.)
The launch is from Sepulveda Recreation Basin. Cost is $50 and change, and we'd sign up right away. We mean right away, since only 280 people will get to participate. The tour is about two-and-a-half hours in length. Registration opens on Aug. 9, and there's a lot to know, so study up before filing out the online forms.
The organizers also say that the program will inspire more recreational use of our river. Fingers crossed, or oars crossed, or something, on that point. Can it be long before we have our own shop-and-coffeehouse-lined river walk? Counting the days.
Copyright FREEL - NBC Local Media