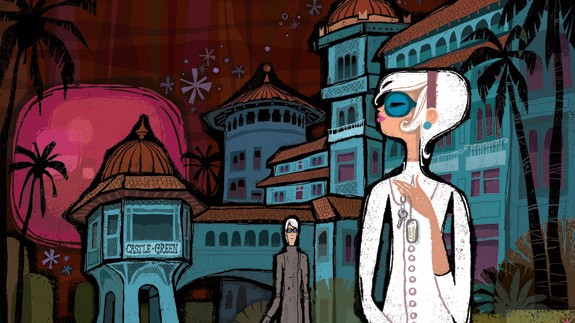 The backgrounds of Chris Reccardi's eye-popping works are striking for many reasons. The scene surrounding the main focus might be highly mid-century, or it could be a lunar landscape, but the viewer can count on it to be fanciful and oftentimes fictional.
But that is indeed Castle Green in the image above. It's one of eight Pasadena-loving works created by the artists, in fact, and those digitally produced paintings are set to go on display at the newest Tender Greens. Which just happens to be in -- wait for it -- Pasadena.
The exhibit opens on Friday, Nov. 11 at 7 p.m. LA pop artist Kii Arens will also show works.
If your love for the Crown City is vast, be prepared for the artworks to reflect the bigness of your affection. The largest Giclee print spans 72 inches, which is no small feat.
Will your favorite building be on the wall? We kind of hold a small hope that Pie 'N Burger made the cut. But, truly, Castle Green, done in aqua blues, is all we need.
Mr. Reccardi is a resident of Pasadena. If only every artist gave a little love, now and then, to his or her own neighborhood. Many do, and we thank them.
The Tender Greens opening is free. The works by Mr. Reccardi are described as a "permanent installation" if you can't make the Nov. 11 event.
Follow NBCLA for the latest LA news, events and entertainment: Twitter: @NBCLA // Facebook: NBCLA
Copyright FREEL - NBC Local Media