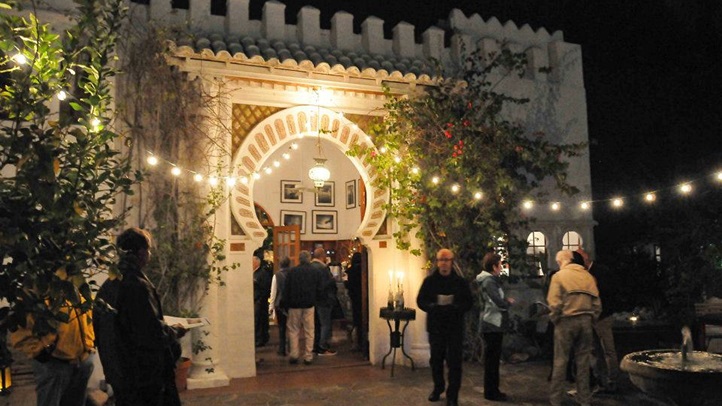 DECEMBER IN THE DESERT: People may be brrrr-ing it up come late fall in various parts of the country, but over in Palm Springs? Yeah, someone is probably sipping a frothy tropical cocktail by a perfectly crystalline swimming pool. That's how it rolls in one of the best-known resort cities on the planet, even in the brisker months. Heck, especially in the brisker months, which tend to be quite the bustling time for the ol' P.S. But, and it is a nice but, those desert nights can be on the nippier side. In fact, we're hoping scientists can one day bottle that stuff right up, because a December evening in Palm Springs? It's a beautiful thing. It's that cool dryness other cities and state long for but it belongs to Palm Springs, and its arid ilk, alone. And that cool nighttime dryness is the perfect atmosphere for a stroll, with cocoa or a hot toddy in hand, as you visit some of the landmark inns and hotels of Palm Springs. You've heard that there are hotels in Palm Springs, right? That people sometimes stay at?
OH, WE JOSH: The gorgeous stay-over spots of the desert town are rightly famous. And many of them deck their halls and throw open their doors on the second Thursday of every year. It's called Walking Tour of the Inns, it happens on Thursday, Dec. 12, it is free, and the happy upshot is this: You get to nose around some of the most picturesque places in the Springs, the kind of places they slap onto the front of brochures. Never stayed at a few of these spots? This is your chance to get a looksie without having to register as an overnight guest. Plus, it'll be perfectly festive, with carolers, music, lights, and other Decemberesque touches. Show with a toy donation for the Well of the Desert, bundle up -- remember the cool dryness -- and download the map before setting out.
THE ONLY THING... we'd suggest is starting off early, at 4 p.m., so you can admire the sun sinking low behind Jacinto. Truly, the Official Board of Glorious California Sights -- that exists, right? -- should put a Palm Springs autumn evening on its list of the Ten Best Golden State Experiences. We'd vote for it twice, if we could.
Copyright FREEL - NBC Local Media