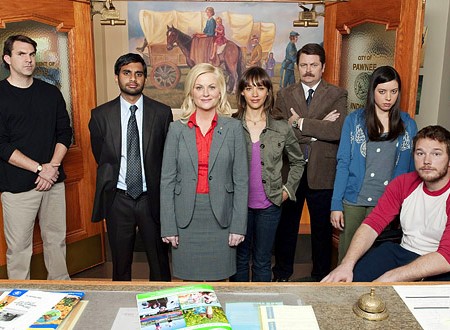 Will the civic-minded employees of "Parks and Recreation" enter into some sort of mano y mano battle with all the television vampires?
Probably not, although if it happens, we're betting on Amy Poehler's Leslie Knope to come out the victor (she's got such focus of vision, after all). Ms. Poehler, and lots of other people from the NBC half-hour "Parks and Recreation," are headed for the Paley Center for Media on Saturday, November 14th to panel it up about their rolling-rolling-garnering-the-love TV comedy.
It's the same weekend that the Paley's feting television's famous cape-and-fang set. Interesting combo.
But "Parks and Recreation," of course, does not deal in brooding, nocturnal romance, but rather ha-ha-ing, and the small-town machinations of hapless bureaucrats. It's funny, it's from "The Office" people, and if you're following, we expect this live get-together-and-dialogue will appeal.
It starts at 7PM on the 14th and tickets are $15. Check out the full list of attendees.
Copyright FREEL - NBC Local Media