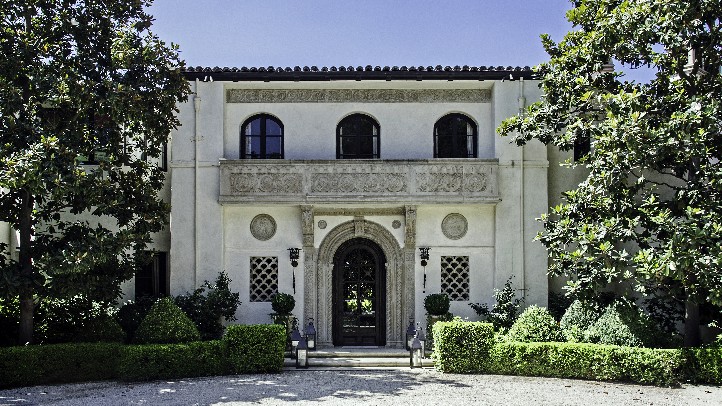 Buster Keaton and the silent movie era? It's nearly impossible to not type them in the same sentence, much less the same paragraph.
The man and the medium went arm-in-arm, it's true, but the great comedian was also laying important groundwork for all film comedies to come, in terms of timing, reveals, deadpan looks, and gags.
But what's on screen isn't the whole story, of course. The porkpie-hatted laugh-maker may have been taking pratfalls or running from the baton-waving police during the day, but at night he returned to an elegant and sedate Beverly Hills mansion, where we imagine the pratfalls were fewer.
The '20s-era Italian Villa still stands, and the LA Conservancy is taking it over on Saturday, Oct. 6 for its annual benefit. The organization and the setting fit together; the Conservancy fights for homes and structures such as this one, keeping them standing and thriving when newer plans tempt over bygone days.
A ticket to the cocktail party is $300; sponsorship levels go up from there. If you want to do dinner as well, explore a higher level.
If you do attend, in fabulous '20s wear, with a fabulous beverage in hand, take note that Mr. Keaton wasn't the only celebrity to call the abode home. The Conservancy says Cary Grant, Marlene Dietrich, and James Mason all hung their hats within its ornate walls at one time or another.
Oh, and last interesting mention? This is a private residence, which means the opportunity to stroll inside is indeed rare. We said "stroll" there, not "dash madly," Keaton-style. After a long day of being chased on-screen, we like to imagine the star lounged quietly around his posh estate.
Follow NBCLA for the latest LA news, events and entertainment: iPhone/iPad App | Facebook; | Twitter; | Google+; | Instagram; | RSS; | Text Alerts | Email Alerts
Copyright FREEL - NBC Local Media