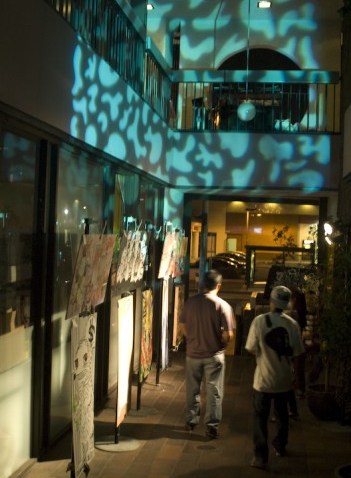 A sizzling mix of harajuku girls, artists, alternatives, skaterboys, and activists came together in Chinatown Friday night to follow fashion forward (an understatement!) store Welcome Hunters invitation to celebrate. Four stores within a few feet of each other kept their doors open and offered food and drink, and there was an art installation and a silent auction with some interesting artwork as well.
Flock Shop sold T-shirts with passionate democrat-supporting slogans (part of the profits went to Obama's campaign), Welcome Hunters previewed the unisex clothing line House of Bare debut spring/summer '09 collection, a limited number of pieces available through this weekend only. Ooga Booga—a lifestyle store for lovers of the humorously outrageous—and Lions Den (for one of a kind sneakers and menswear) were open as well and we were really amazed with some of their items—a book for daddy's of teenage girls and a brave and successful pattern mix hoodie by LeRoy Jenkins respectively.
The night felt decidedly outside the mainstream, and so we were a little surprised to hear Mariah Carey's "We belong together" blasting through the speakers as we left. But in a way it was an unexpected ingredient that gave this happening an even more interesting flavor. [RackedWire]For more stories from Racked LA, go to la.racked.com.
Copyright RACKL