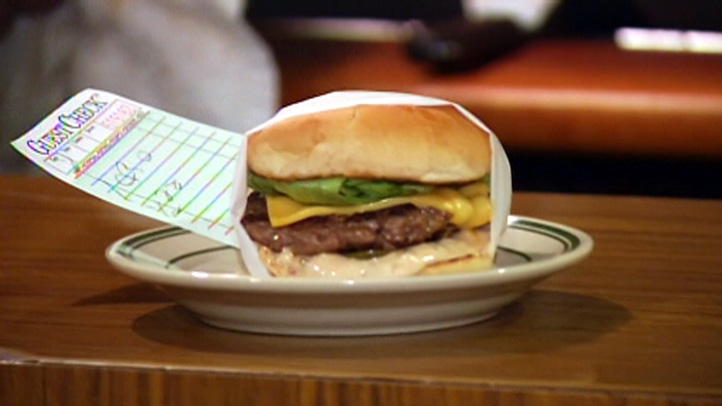 Southern California's ties to the titans of fast food are so strong and so long-lived that we're surprised when we learn that a particular dish or chicken sandwich came together outside of the LA-OC-IE nexus.
If you told us right now that a SoCaler invented the little "tear here" rip on a miniature ketchup packet or the "water" button you always see on fast food soda machines, we'd probably believe you from the get-go.
So hearing a Pasadena man put the first slice of cheese atop the first patty -- which is no small potatoes -- is truly right in line with our famous fast-foodian past. Local cook Lionel Sternberger is said to have done just that back in 1924, at the Rite Spot, and the Crown City will honor his legacy, and all modern cheeseburger makers within the city limits, at the upcoming Pasadena Cheeseburger Week.
It's year two for the the meaty happening. A cheeseburger challenge and other tasty happenings will be going down from Sunday, Jan. 13 through Friday, Jan. 18.
The fact that buzz is building two months ahead of the event's launch is a tribute to the brilliance -- yeah, we said "brilliance" -- of hosting a full-on cheeseburger week. We're certainly not knocking the more general restaurant weeks so many cities now back, but drilling down a bit, and focusing on one very famous and beloved dish seems to be a smart route, too.
Can it be long before specific local ingredients are given their own week-long spotlight? Several amazing hot sauces are made in the LA area. We vote for a full week for each.
For more info on all things melty and cheddarlicious, watch this space.
Follow NBCLA for the latest LA news, events and entertainment: iPhone/iPad App | Facebook; | Twitter; | Google+; | Instagram; | RSS; | Text Alerts | Email Alerts
Copyright FREEL - NBC Local Media