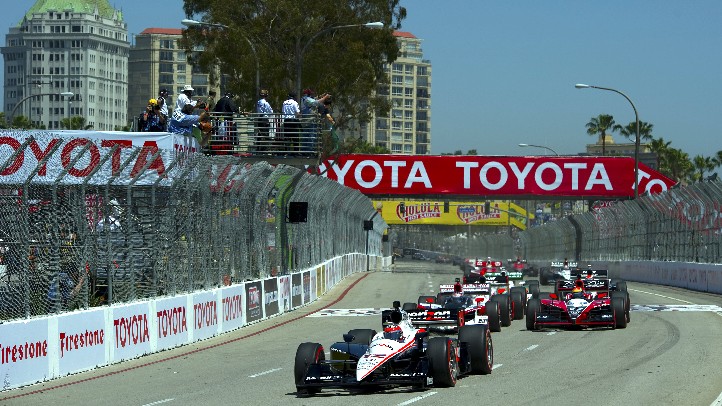 The hallmarks of a major event? It's not just a day-of thing. Stars from all quarters show up to participate, to party, or do both. And the event itself spreads to the streets, in the form of grandstands, billboards, closures and reroutings.
Major. You recognize those hallmarks in the Tournament of Roses, but, come April, they belong solely to the Toyota Grand Prix of Long Beach, which is billed as "America's #1 Street Race!" A few exclamation points may be in order next year, Grand Prix organizers. We're just saying.
Because the street-zoom spectacular, which rolls in 2011 from Friday, April 15 through Sunday, April 17, is pretty large and in charge. Gordon Ramsay will lay down his spatula and raise a hand to give the "Drivers, start your engines" call on Sunday, April 17 at the IZOD IndyCars series race (that's what the Grand Marshal does, and Mr. Ramsay is wearing that title for 2011). And race stars galore, from Dario Franchitti to Danica Patrick, will be geared up and going fast.
Orbiting the main action? Mega events like the multi-day Lifestyle Expo and the Tecate-backed shows like the Rock-N-Roar Concert. Some 170,000 people show for something or everything, so count on a lot of extras to be going down.
The track, if you're wondering, is a smidge under two miles -- 1.97, to be specific -- and has 11 turns. We like driving it in the days following the Grand Prix, albeit at a much, much slow-pokier pace. You too? Everyone who does it dreams, just a little, we bet.
Copyright FREEL - NBC Local Media