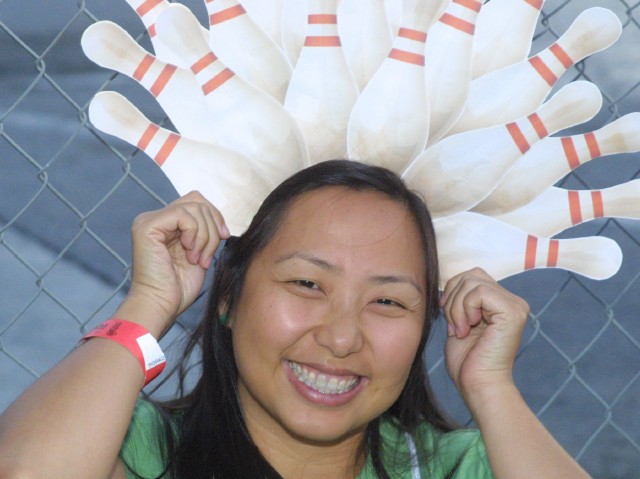 It's been on for a few weeks. There are a few weeks to go. And clearly the people of our good city only wish to wear outlandish things on their heads and poofy wigs and ghosty sheets and act madcap.
Because movie fans have been bringing it for Hollywood Outdoor Cinema, the parking-lot'd lark that's been going down off Sunset every Saturday night since mid-late July-ish. Granted, the recently screened movies -- "The Big Lebowski," "Ghostbusters," and "Pretty in Pink" -- have made the crowd's costume selection pretty easy: a bathrobe, an ectoplasm-stained jumpsuit, a dayglo scrunchie and/or granny dress. Still, the photos are fanciful. People are going the distance.
There are three movies to go for summer '09, and we're talking about 'em now, because there's nothing worse, well, when it comes to costuming-up-for-movie-night, than sadly picking through the back drawers, at 5:50PM, on a Saturday, while your well-costumed friends are honking the horn, eager to leave for the cinema. You want something to wear, something that will be photographed by other movie-goers, but you didn't plan ahead.
You won't win a prize. You won't even be in the costume contest. In your heart you know you could have been number one, if only you'd started your sartorial search before 5:50PM on Saturday evening.
Plan today. Over the next three Saturdays Hollywood Outdoor Cinema is screening "Shaun of the Dead," "Fight Club," and "Blade Runner"; again, the dress-up choices should be obvious. Modern-day zombie, stripped-to-the-waist, pec'd-out Brad lookalike, and a delicious Deco 'bot a la Sean Young. Good luck.
Copyright FREEL - NBC Local Media