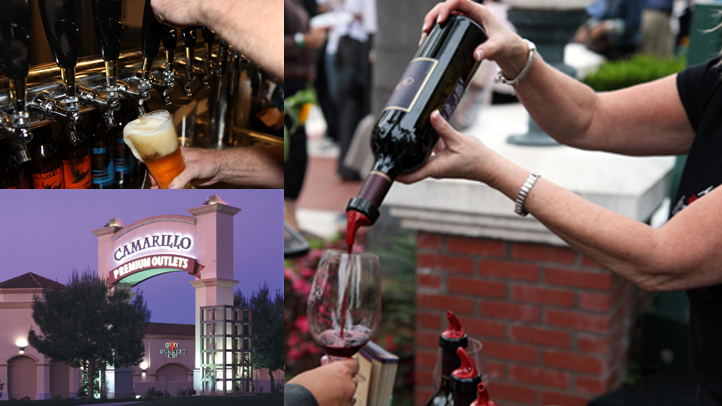 This article is sponsored by VenturaCountyWest, home to the inspiring destinations of Camarillo, Oxnard, Ventura and the California Channel Islands. To learn more about the stunning region, visit VenturaCountyWest.com.

October brings out the best in Ventura County West. Whether you're discovering your new favorite wine along the Ventura County Wine Trail, sipping tasty brews from new microbreweries or shopping at sophisticated outlets and funky antique shops, there are plenty of inspiring things to do and see this time of year.

Ventura County Wine Tasting Tours
The word has gotten out about Ventura County's up-and-coming wine industry. Ventura County has over 15 wineries/pouring rooms on the Ventura County Wine Trail. Start in Camarillo with a stop at the quaint Bella Victorian Tasting Room & Bistro in Old Town Camarillo. Owners Jerry and Kimberly Monahan grow Syrah, Grenache, Counoise and Viognier grapes, and their tasting room at the Bistro gives visitors a chance to pair wines with the chef's "farm to table" menu.

Ever fancy yourself your own vintner? You can at Squashed Grapes in Ventura where you can make your personalized wine. You decide on varietal and when the time comes, you fill and cork each bottle and apply your own custom-designed label. You can even arrange to pick and crush your own grapes. Get a jump on a weekend wine tasting adventure with Squashed Grapes' Friday night "Winedown Weekdays." From 6 p.m. to 10 p.m., you'll enjoy dinner by Chef Steven Stroh, music and a glass of fine wine, all for $20.

At Herzog Wine Cellars, tour state-of-the-art wine fermentation and bottling, enjoy a flight of wine in their beautiful tasting room/gift shop and treat yourself to Mediterranean-influenced cuisine by Chef Todd Aarons at Tierra Sur Restaurant inside the winery. Pomegranate-marinated lamb, aged rib-eye steak and wild king salmon are all cooked outdoors on an open flame. Using only the best ingredients, the restaurant buys from local, small family farms.

Group and private wine tours are available through the Ventura County Winery Association, California Visitors Center in Oxnard and the Ventura Visitors Center with advanced reservations.

Master Brewers
Not to be outmatched by vintners, VenturaCountyWest has a rapidly growing craft beer industry. The newest microbrewery is Surf Brewery in Ventura where visitors can taste its award-winning Surfer's Point Vienna Lager and County Line Rye Pale Ale in a taproom brimming with vintage surf and beer décor. A behind-the-scenes tour shows where it all happens--including walk-in coolers and a steam boiler that runs the 500-gallon fermenters. The focus is on beer, so if you want a meal with your brew, bring your own or try something from the gourmet food trucks that park outside on weekend nights.

Just five miles away is Anacapa Brewing Company, a brewpub in a beautifully restored brick building on Main Street in Ventura. Handcrafted ales are on tap and complement a menu of delicious and original meals. There's even a feast for the eyes with selected local artwork rotating every six weeks. For an authentic Irish beer tasting experience, sample some of the 14 beers on tap at Brendan's Irish Pub in Camarillo. It's owned and operated by two Irishman who have created a setting comparable to the best pubs in the old country. Order traditional Irish dishes such as corned beef and cabbage, bangers and mash or shepherd's pie.

Shop the Premium Outlets®, Downtown Antique Stores
Get an early jump on your holiday shopping with a trip to the Camarillo Premium Outlets. Not your typical outlet mall, the Camarillo Premium Outlets actually spans three centers. Find impressive savings at Barneys New York, Coach, Giorgio Armani, Kenneth Cole, Saks Fifth Avenue Off 5th and Tommy Hilfiger. Looking for a funkier feel to your shopping experience? Stop in at one of the dozens of antique shops in and around Main Street in Ventura. You'll find great one-of-a-kind treasures and items from years past--all without paying high prices. B On Main, Parts Unknown and Blue Moon are all fun shops. Downtown Oxnard also offers an array of specialty and small boutiques including a crafter co-op and La Gloria's authentic Mexican market. Over 40 international dining options are close by. For a more traditional shopping experience, Oxnard's Esplanade Center is just off the 101 freeway.

Fun Fall Events
For a unique experience, come up for the weekend to witness the Seaside Highland Games, Saturday and Sunday, October 13 and 14 at Seaside Park in Ventura. This Scottish event includes athletic competition, music, dancing, reenactments, antique cars, food, drink, bag piping, kilts and even a fiddle contest.

On October 20, balance a wonderfully cool VenturaCountyWest evening with a hot night on the Jimmy Buffet Parrot Head Cruise featuring the Unkle Monkey Band. Island Packers' 64' powered catamaran cruises the Ventura Harbor and Ventura Keys while guests enjoy a Mexican feast.

What's fall without trip to a pumpkin patch? McGrath Street Pumpkin Patch in Ventura has opened its farm to visitors for over 30 years. Pick your own pumpkins any day in October and be sure to grab a freshly baked pumpkin pie while you're there. Or, you can drop by Harbor Pumpkin Fun Day October 28 at the Channel Islands Certified Farmers & Fishermen's Market in Oxnard. It features a wonderful harvest from local farms, freshly caught seafood, artisans, food, live music, and of course, lots of pumpkins.

For a full list of the inviting hotels, restaurants and entertainment in Camarillo, Oxnard and Ventura, visit VenturaCountyWest.