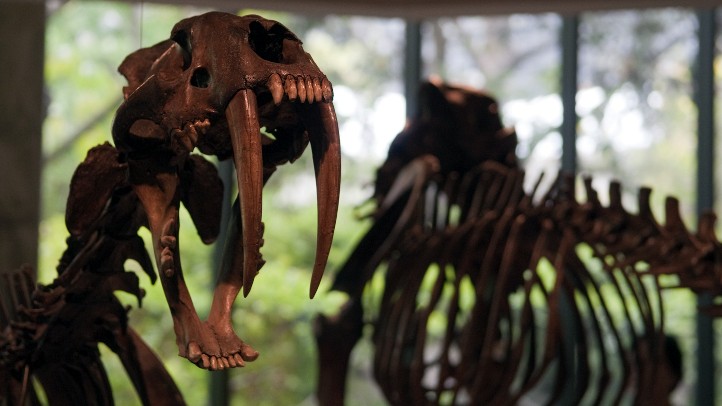 Plays, it might be said, very generally, are about or deal with humans. Please don't take us to task, theater scholars; we realize there are whole encyclopedia filled with productions dealing with matters of a non-human, non-corporeal form, plays about animals, plays about supernatural beings.
So a series of short plays -- fifteen in all -- that focus on a Los Angeles landmark that happens to be one of the world's best known Ice Age fossil sites certainly plucks at the imagination. If you were tasked to write a short, to-be-staged show about the La Brea Tar Pits, where would you begin? A lonely mammoth who befriends a wayward dire wolf? Would you write about a team of tireless paleontologists on the trail of the ultimate fossil? Would your play cross eons, all within ten minutes?
Fifteen playwrights will reveal the routes they took during the FLASH Festival at the Page Museum. The theater fest, which opens on Saturday, Sept. 8 and runs each weekend through Sunday, Sept. 23, will feature fifteen plays about or inspired by the tar pits.
"Scientific parameters" have been provided by the Page Museum curators, meaning the productions will certainly be educational. (So much for our cute lonely mammoth/dire wolf storyline, but we were just joshing. Kind of.)
Chalk Repertory Theatre is co-presenting the five-plays-a-weekend run with the Page Museum. The suggestion donation is $15 and you'll want to reserve ahead.
It's a grand idea, we think, and we're hoping more institutions put on plays where plays might not have previously appeared. Chalk Rep, we're putting it to you; what museum can you set up a flash theater at next?
Follow NBCLA for the latest LA news, events and entertainment: iPhone/iPad App | Facebook; | Twitter; | Google+; | Instagram; | RSS; | Text Alerts | Email Alerts
Copyright FREEL - NBC Local Media