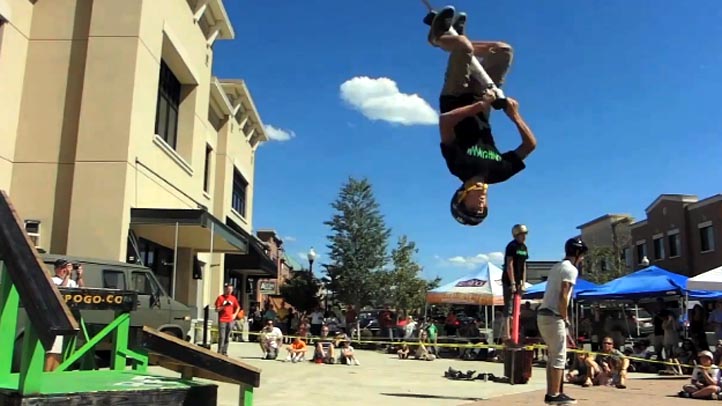 Athletes from around the globe are heading to Costa Mesa later this month to pogo their way into the record books.
Now in its eighth year, Pogopalooza combines world records attempts with the extreme sport's annual championships. It's in a different city each year, with this year's festivities scheduled for July 28-30 at the OC Fair.
It began in 2004 with "six guys in a church parking lot in Nebraska," said Nick Ryan, one of the event's organizers.
"It's grown from there very, very fast," said Ryan.
During the first day, extreme pogoers will attempt to break the records for most consecutive backflips (current record: nine), most consecutive front flips (four), least jumps per minute (39), most jumps per minute (256) and the granddaddy of them all, most consecutive jumps.
The current record stands at 186,152.
If anyone can break it, it's James Roumeliotis -- the current record holder who snagged the title in 2007 with a marathon session that lasted 19 hours and 45 minutes.
Roumeliotis' attempt this year at Pogopalooza 8 is expected to last at least 23 hours, said Ryan. Roumeliotis will receive a five-minute break every hour.
"I have a good feeling about it," said Roumeliotis. "The big reason why I stopped was a sprained ankle during the last go."
Roumeliotis said that this time, he plans to keep his ankle wrapped tightly. He's recently done one five-hour practice session and has a few more planned before the big event.
In addition to spectators, at least two officials will be watching as he jumps for the record. The endeavor will be streamed live on ocfair.com and xpogo.org.
Then on Saturday and Sunday, pogoers from around the globe will vie for the world championship title, with such competitions as a "high jump" and "best trick."
"It is truly an experience like no other," Ryan said. "Extreme sports are fun to watch but pogoing is different. It shatters preconceived notions about what a pogo stick is."
Admission to Pogopalooza 8 is included with tickets to the OC Fair. The three-day event is held at the Action Sports Arena. Premium tickets are available.