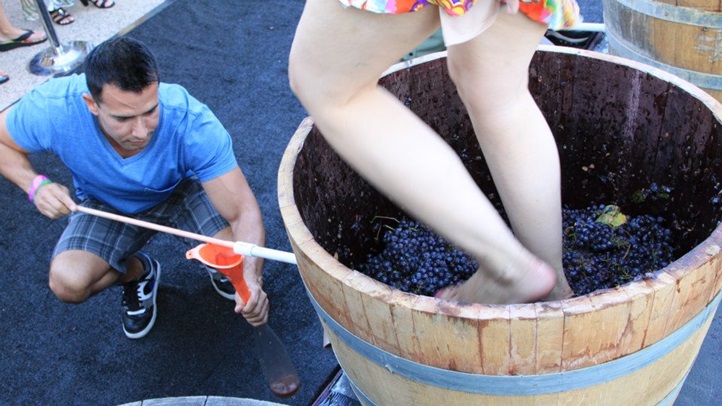 THAT DECIDING MOMENT: Every positive first experience in our life arrives not on its own but accompanied by a "hmmm" moment that precedes it. We pause to decide if we're going to dance alone at the center of the circle at the wedding, and we take a few seconds before slurping our first oyster. Call it the "going for it" moment, or put whatever name to it you wish, but it absolutely occurs before your first-ever grape stomp.
THERE YOU ARE, without your shoes, ready to step into a barrel full of squishable and plump grapes, and you're deciding if you're really going to do this (which you've sworn to yourself you've wanted to try for years). Then, you're in the barrel, and laughing, and squish, squish, squishing away as your pal stands before the barrel, ready to fill a bottle with the resulting juice. If you're familiar with the fun of trying new things, and you don't mind de-shoe-ing for a few minutes to participate in the venerable act of wine-makery, put Ponte Winery on your fall schedule. For the Temecula Valley mainstay is once again hosting a...
GRAPE STOMP: The afternoon affair is on Sunday, Sept. 25, and there are other to-dos outside of the stomp, like a "gourmet dinner" and, of course, the sipping of excellent vinos. You can chill out, Sunday-style, to some jazz tunes, or you can feel a bit of adrenaline as you choose to go the grape-stomping route. The "option to stomp is included with ticket purchase," emphasis on "option," so join in or sit back and watch the lively show. Tickets? They're $89 to $99 for this autumn classic, so best decide soon if this is something your ready to cross off the bucket list. Squish, squish...
Copyright FREEL - NBC Local Media