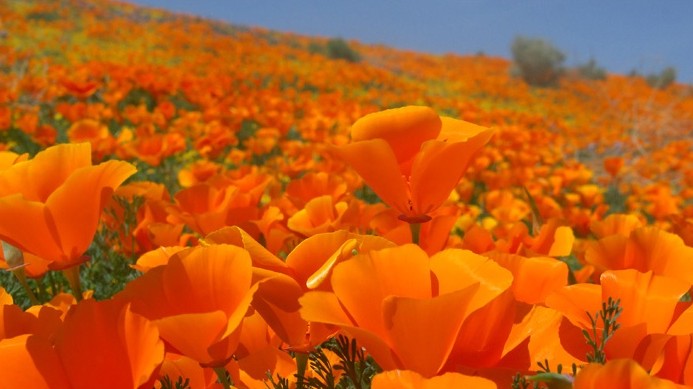 Maybe the Wicked Witch of the West was onto something.
When she cackled the word "poppies" in "The Wizard of Oz" -- and we're quite sure you can hear exactly how she cackled it, in your head, right now -- she didn't happen to mention that the bright bud is the state flower of California nor that it has a tendency to bloom in profusion.
What she did suggest, or, er, cackle, is that the poppy is one magical flower.
No, we don't expect you to nap among the famous buds, a la Dorothy and her friends, should you head for the annual California Poppy Festival on Saturday, April 21 and Sunday, April 22. We do expect that you'll listen to music and stroll by crafty booths and snack on weekend-fun food and admire the orange-sweet symbol.
The festival is located in Antelope Valley, which could just as well be nicknamed Poppy Valley, given that a few flowers tend to burst around those parts around this time of year. (We kid; a lot of flowers typically do.) The specific location for the festival is Lancaster City Park.
If you want to do some wilder roaming around the valley before or after the city-set fest, keep tabs on the flower watches. (And you should definitely note that the festival is inside the city of Lancaster, meaning you'll have to head into the wilder environs to find those classic poppy-laden views.)
Desert USA has a good poppy watch -- the site reports there were a number of poppies sprouting as of April 13 -- but the Antelope Valley state park site reports less than stellar results (maybe from our dry January). Still, if you're game, and you want to go on a poppy search, they do have tips on where to look.
Follow NBCLA for the latest LA news, events and entertainment: iPhone/iPad App | Facebook; | Twitter; | Google+; | Instagram; | RSS; | Text Alerts | Email Alerts
Copyright FREEL - NBC Local Media