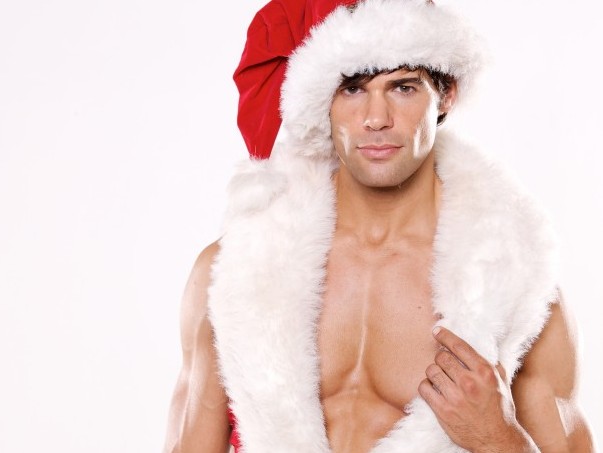 Right? The black crepe paper and accordion skeletens have barely been hung, and yet, here come the famous Hunky Santa tryouts. We may take a vow here and now to stop marveling how early holidays are showing up. Because soon, it will be Fourth of July in October.
Or Thanksgiving in November. And we mean Thanksgiving *next year*.
Hunky Santa, if you just arrived in Los Angeles 30 minutes ago, is a man who wears a fur-lined outfit that apparently has no buttons in the chestal region. There is some serious six-packery going on. Doesn't Santa like things filled with jelly and chocolate and caramel?
H.S.'s throne reappears every year at the Beverly Center, and both men and women come to sit upon his firm knee and giggle wishes into his ear. Is his ear extra firm, too? We're betting.
And while all this homina-based revelry will go down during the holiday season, the Bev Center is going to start their search for Hunky on Tuesday, October 6th. Over 300 candidates showed last year, looking for all the world like they've been doing arm curls with a rocking horse or shiny new bike in each hand.
Are you auditioning? Even if you don't, the tryouts are open to the public. Level 6, Beverly Center, October 6th, 7PM. Ho ho ho.
(This one needs picture proof. If you go, send your snapshots into So LA.)
Copyright FREEL - NBC Local Media