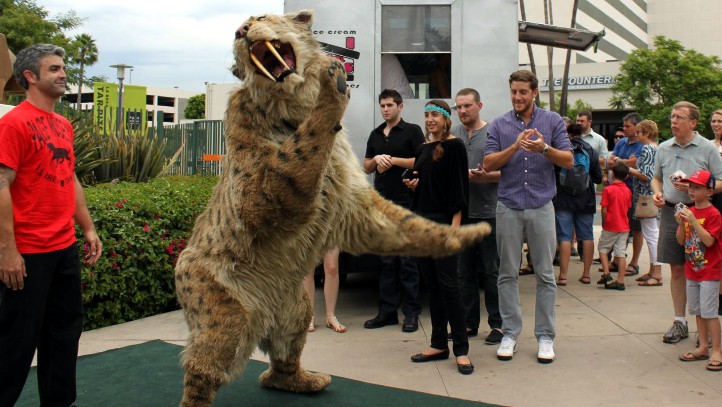 We're pretty happy we weren't driving down Wilshire Boulevard near Hauser on Wednesday of last week.
Oh, it's a beautiful and historic area, don't get us wrong; but that was the day that the new smilodon fatalis -- or saber-toothed cat, if you prefer -- arrived at its permanent Page Museum home next to the La Brea Tar Pits.
But, nope, the giant puppet, which was created by the Jim Henson Creature Shop, didn't truck into the back of the museum after-hours; it strolled along Wilshire Boulevard, on its own, right up to the tar pits.
You're seeing why we were happy we weren't driving, right? It's a rather remarkable sight, seeing a prehistoric animal just toodling down the sidewalk, and we would want to bend any fenders over it.
Truth be told, we would have pulled over and parked in order to get close to the mega kitty, which is quite realistic. And when we claim it walked down a stretch of Wilshire under its own power, let's thank the puppeteers inside -- should we have put "spoiler alert" there? -- and the cat's handlers who accompanied it.
We do love a saber-toothed cat with an entourage, don't you?
The smilodon fatalis puppet presentations are now happening on Wednesdays and Saturdays at the Page Museum, thrice daily; your Page admission gets you. Meow.
And if you missed the whiskery Wilshire walk-up, here's fun video.
Follow NBCLA for the latest LA news, events and entertainment: iPhone/iPad App | Facebook; | Twitter; | Google+; | Instagram; | RSS; | Text Alerts | Email Alerts
Copyright FREEL - NBC Local Media