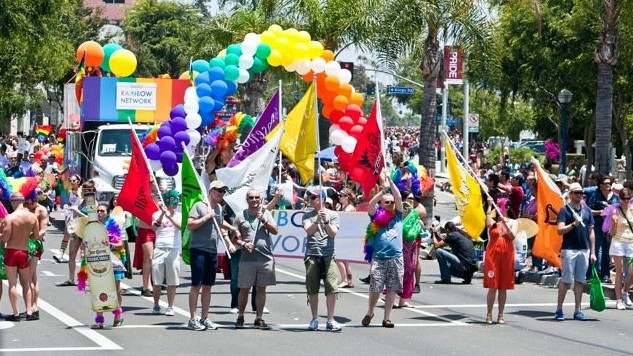 Few cities in the country can claim to be the destination for a half million revelers once a year. But twice? Nearly unheard of. But then, few cities are West Hollywood, which can indeed boast about hosting happy crowds twice each year. Come October costumed crowds converge for the Halloween carnival, but in June some 500,000 visitors and locals celebrate pride with a two-day festival and grand parade.
Yep. A half million. Plan your ride. Think about your parking. It's a big, big celebration.
And starry. Macy Gray is singing at the Friday, June 10 Purple Party -- it's a night "paying homage to the 'L' of LGBT," says the site -- and skater Johnny Weir is the grand marshal at the Sunday, June 12. Margaret Cho, Estelle, and Mya are a few of the names on the extensive performance calendar.
One of the delights of the weekend are the inevitable surprises and I-seriously-didn't-expect-that moments. We got word that Madame Tussauds will arrive with three pricey wax figures -- Madonna, Lady Gaga, and Jane Lynch -- which will be included in the Sunday parade. Yeah, we're kind of tickled by this. We want to wave at a wax Tussauds figure in a parade. Adding that to the bucket list now.
If you just want to stop by the festival, note it is happening at West Hollywood Park on June 11 and 12 (and that due to the building of the WeHo library, things'll be configured differently than in years past). The parade leaves from Santa Monica Boulevard and Crescent Heights Boulevard on Sunday, June 12 at 11 a.m.
Copyright FREEL - NBC Local Media