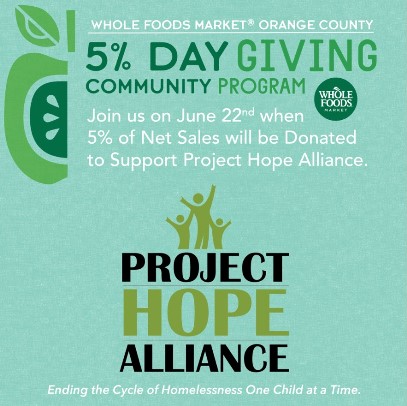 Project Hope Alliance has partnered with Whole Foods Market locations in Orange County to help local homeless children. From June 19 to June 25, shoppers can purchase wish-list items and donate them in-store at marked barrels.
Items will be distributed to homeless children and families through Project Hope Alliance, a non-profit organization focused on breaking the cycle of homelessness one child at a time through education and housing in Orange County.
Also, on Thursday, June 22, Project Hope Alliance will receive 5 percent of store sales from the cities of Brea, Irvine, Tustin, Huntington Beach, Laguna Niguel, Laguna Beach and Newport Beach.
Children are the fastest growing segment of the homeless population. Over the last 10 years there has been a 100 percent increase in the number of homeless children nationally. Project Hope Alliance works locally with children, from Kindergarten through high school (up to age 24) to ensure they receive an education and break the cycle of homelessness.
To learn more, visit www.projecthopealliance.org.