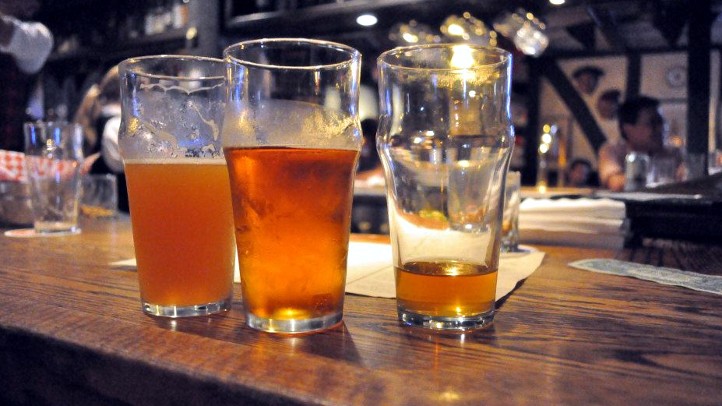 If you've ever been on a pub crawl, we'll wager two things. One? You were probably not in Los Angeles. And two? You understood why "crawl" is in the name.
Nope, we don't expect that you actually crawled, but you saw pubs bunched close together, meaning "crawl" is a fitting way to describe moving among them.
But here in LA? A crawl is slightly trickier. We do have spots of higher density, but, for the most part, we rely on transport. Meaning that our pub crawls aren't crawls so much as hops, via wheels. Meaning someone else should probably be driving.
Enter the LA Beer Hop. It's the new Wednesday-nights-in-November pub crawl -- er, beer hop -- that includes a trio of talked-about taverns: Tony's Darts Away, the Pub at Golden Road Brewing, and Mohawk Bend. A five-buck shuttle ride'll take you to any of these, or back and forth, from 7 p.m. through midnight.
The driving part is better understood when the locations of these three establishments are listed: Burbank, Glendale, and Sunset Boulevard. No crawling there.
But the shuttle isn't the only special. Brews for four bucks, nice prices on eats, and "surprise swag" -- hello -- are on the docket.
Sounds excellent by us, and we're a proponent of Wednesday nights being a bit festive. We know, we know, a lot of people start the weekend unofficially on Thursday night, but you can unofficially start Thursday night on Wednesday night, right?
Find the first shuttle departure at Mohawk Bend at 7 p.m. (Update: Shuttles will leave from all three locations from the get-go.) You can reserve a spot here. Happy hopping, beer fans.
Follow NBCLA for the latest LA news, events and entertainment: iPhone/iPad App | Facebook; | Twitter; | Google+; | Instagram; | RSS; | Text Alerts | Email Alerts
Copyright FREEL - NBC Local Media