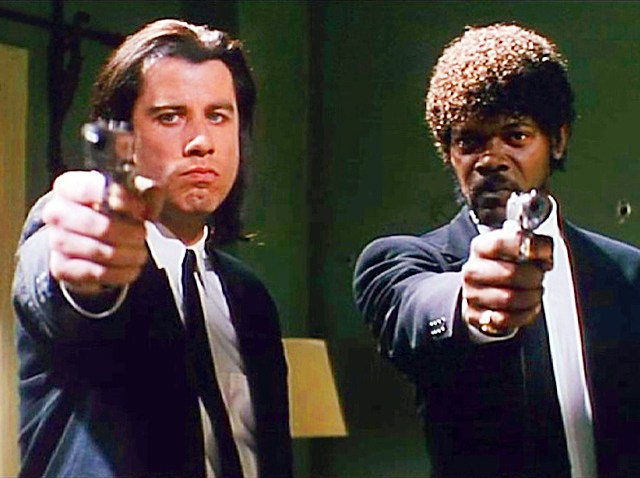 Remember in older films, in the credits, when an actor played two parts, it would read "Starring Actor X AND Actor X"? Often with a split screen showing the actor twice?
We miss that convention. But we're summoning it now, to say that Saturday, July 24 will be featuring "Pulp Fiction" AND "Pulp Fiction"! (Cut to the split screen and a freeze frame.)
Both the Outdoor Cinema Food Fest, which will be in Exposition Park, and the Devil's Night Drive In, which is downtown on 4th Street, will be showing the Quentin Tarantino-directed 1994 Palme D'or winner.
That "Pulp Fiction" can be scheduled in two places on the same night is reason #1398 this town is great. Oh, and as you know, this is the town much seen in "Pulp Fiction." Both of them.
We'd like to support both Outdoor Cinema and Devil's Night. But how? Watch the first half at one place and the second at the other? Could be done, maybe, with a bit in the middle missed. We do not want to miss the Thurman-Travolta dance scene, though. No.
It reminds us of our dream of eating at every Pink's location in a single day. A person has to have goals, both big and small, and if watching "Pulp Fiction" at two different places over a single night is one of them, well. Bravo.
Copyright FREEL - NBC Local Media