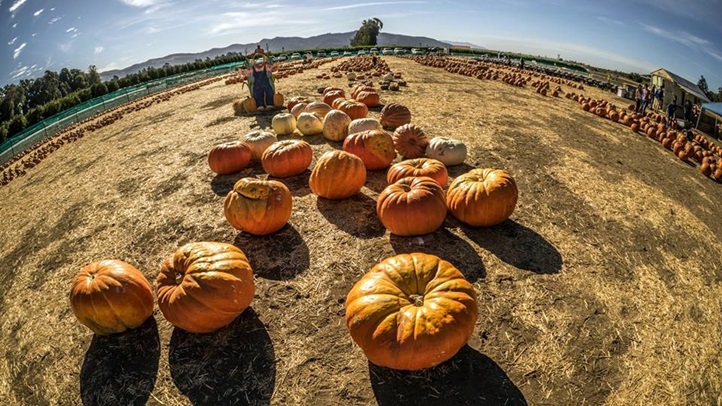 SOMEWHERE, down some long road, in some amazingly well-appointed kitchen, a creative genius is devising new ways to incorporate pumpkin into new, quirky, unthought-of beverages. One fresh frontier, as of yet, on the refreshing drink front? Lemonade. True, it is more summery than a latte, the libation where pumpkin is king come October. But it just might work, especially considering that Southern California stays warm well into the fall.
IT'S A DAYDREAM... drink devotees are welcome to enjoy as they visit an offbeat pumpkin patch in Santa Paula. Well, the patch isn't offbeat, it's classic, with all of the orange orbs you're hoping for (plus a corn maize, but more on that in a moment). But the Santa Paula Rotary's annual pumpkin-filled spread isn't on a traditional corner or at a typical gourd-growing location: It's at historic Limoneira Ranch, which just happens to be known for, you guessed it, citrus (yep, it's in the very name). It's open on weekends, so you have Oct. 22-23 and Oct. 29-30 to score your sweet squash, the one you want to turn into an awesome jack o'lantern for Halloween night. But don't forget the aforementioned...
5-ACRE CORN MAIZE: Visitors to the patch should plan to get a little lost, in a lively, autumnal way, if that's their pleasure. It's ten bucks to go in, and calling upon the patch is $5, and best keep some cash for your pumpkin-perfect finds. October is waning, dear fall fans, and we soon shall be sipping springtime lemonade again. But what if you had memories to revisit, memories of calling upon a lemon-sweet landmark for your pumpkin purchase? That sweet slice of SoCal quirk is on now, in Santa Paula, across from the Olivelands School.
Copyright FREEL - NBC Local Media