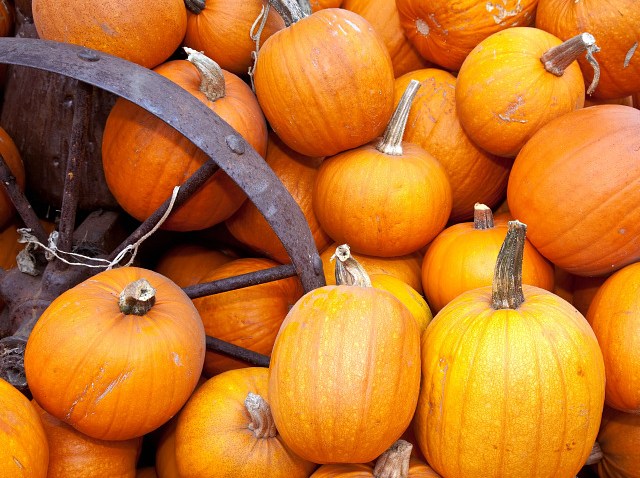 Heidi Klum has been spotted in years past. So has just about every parent/star who lives in or within a short drive of the 90069.
We're not talking about the latest pap'd out lunch spot, we're talking about Mr. Bones Pumpkin Patch on Doheny in West Hollywood. Is there a patch on the planet with a higher celeb factor? The mag reps must plunk themselves down on a giant gourd and just wait for stylish moms to stride in, kicking up hay, glamorously.
We don't know how they kick up the hay with such glamor, but great pumpkins they do.
Spotted thumping pumps in '09: Scott Baio and fam, Jessica Alba and her little patootie, Christina Aguilera and her dudes.
On our last visit to Mr. B., we saw no celebs, but rather plenty of moms and dads that looked potentially famous. At most pumpkin patches the crowd is heavily into denim and sneakers, choosing to forgo the whole face- and fashion-forward look (we're partial to overalls ourselves).
But there's nary a straw hat to be seen at this Beverly Hills-adjacent pumpkin extravaganza. Everyone we spied was artfully be-eye-shadowed and wearing boots with killer heels that sank into the dirt. No flannel. No wool. Only attractive pumpkin lovers ready for the paparazzi. And the perfect pumpkin.
We also must recommend the wonderful Lopez Farms patch, located across from Farmers Market on Third & Fairfax. Quality gourds, friendly service, and just a short zip from Mr. Bones. Not to mention just steps from that other starry draw, The Grove...
Copyright FREEL - NBC Local Media