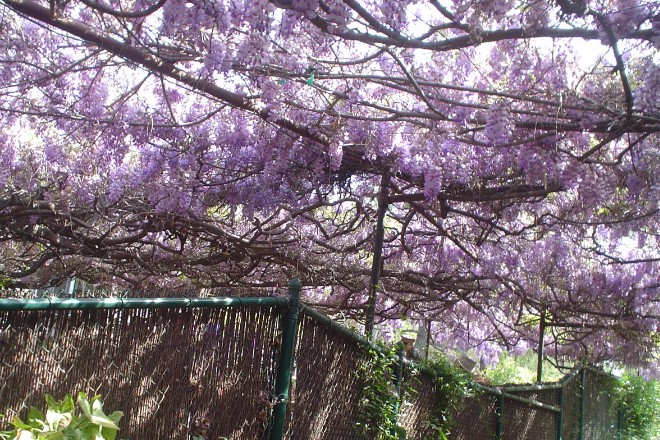 How's that cherry tomato plant in your backyard doing? Pretty good? So. Have you reached the 100-pound mark with it yet? How about one ton?
How about 250 tons? Oh, you think we're joking, we know, that any plant in existence, save maybe a massive redwood, could reach that rather supernatural-sounding weight. But we joke not: If you know your wistaria, and you know your Sierra Madre, you know the quaint, mountain-close town happens to be home to the World's Largest Blooming Plant. (We put those letters all in caps because we think the Guinness Book would want it that way.)
The vine actually blooms over two large backyards, meaning that it isn't normally open to public viewing. But, oh, long about the third or fourth Sunday in March, the fence gates swing wide and the public is invited in to gawk, snap photos, and marvel what 1,500,000 blossoms look like on a single living thing.
That Sunday will be March 25 this year. In addition to the wistaria viewing, Sierra Madre throws a sweet walkabout fair that's full of crafts and roasted corn and people playing guitars. It's good times, is what we're saying.
It's free to walk in to admire the vine but you can book a shuttle ride for $10. We should note that the houses where the wistaria is located are up a quite steep foothill that sits above Sierra Madre proper. It makes an invigorating walk over several blocks, but be prepared to huff it and puff it.
But figure the vine has done some proverbial huffing and puffing over the years though. You don't make 250 tons, and over a century of vibrant living, without a bit of try.
Two quick fun facts. Yep, they spell it "wistaria" in Sierra Madre, so we will, too. Also? The vine was purchased for three bits in 1894. Not even a dollar. Just goes to show you that superstars sometimes aren't recognized from the outset.
Follow NBCLA for the latest LA news, events and entertainment: Twitter: @NBCLA // Facebook: NBCLA
Copyright FREEL - NBC Local Media