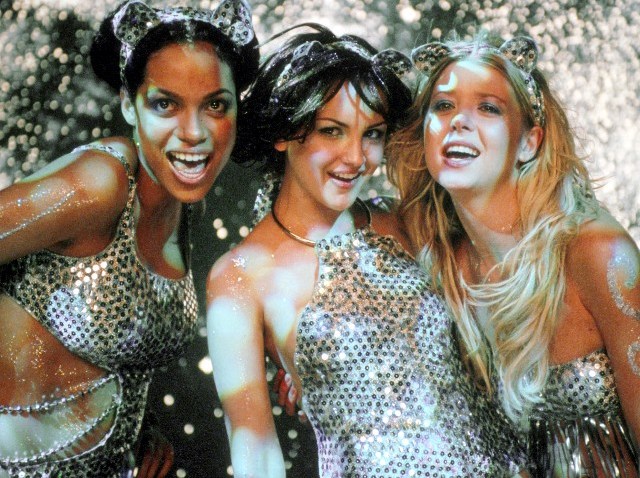 If "pajama party" is in the name of an event, rule one: Wear pajamas. It's like the person who goes out in a t-shirt and jeans on Halloween and says his or her costume is the costume of someone who hates costumes.
We never advocate the squashing of miniature candy bars atop friends' heads, but we're not saying the urge isn't there when meeting such individuals.
Cinefamily is hosting another of its movie-happy pajama parties on Saturday, Jan. 22 at the Silent Movie Theatre, and we trust everyone who shows will be well-flanneled. The film is "Josie and the Pussycats," it is the 10th anniversary of the cartoony confection, and both directors will be present to Q&A.
Yes, *both*. Some of the best films have tag-team helmers. Exhibit A: Monty Python and the Holy Grail. Case rested.
Some cast will show, too, says Cinefamily. C'mon, Eugune Levy. Fingers crossed. And there will be a photo booth and a Jam Session Dance Party. So best wear actual shoes over those feetie pjs, the better to cut a rug.
(Disclaimer: Do not actually cut the rugs at the Silent Movie Theatre.)
This one line from Cinefamily about the night is making us laugh each time we read it, so please enjoy it, too: "Ten years later, this glittery hybrid of Hannah-Barbara (sic) cartoon and John Carpenter's "They Live" has become a totally jerkin' cult classic." Wow, they referenced "They Live" there. Awesome.
And sorry, Cinefamily, we had to "sic" you over Hanna-Barbera. We think you're sick, in the way cool kids use the word, coolly. Friends 4evs?
(Note: Almost had to "sic" ourselves there on the Hanna-Barbera spelling. Which leads us to one conclusion: We all need more Hanna-Barbera goodness in our lives. The laughter. The talking dogs. It's all good.)
Copyright FREEL - NBC Local Media