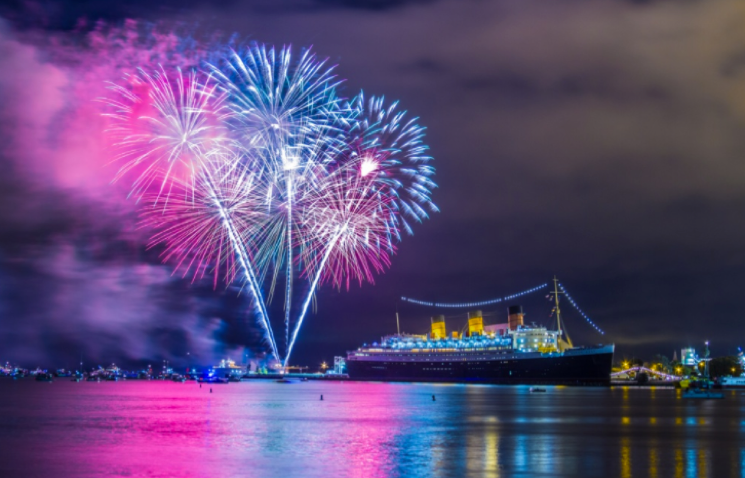 2017 MAY HAVE JUST STARTED, like, twenty minutes ago, in many a mind, but lookie here: Some major Independence Day celebrations are already beginning to crop up, or pop up, like so many pyrotechnics in the sky. Nope, the year isn't half over quite yet, but you can secure your spot at a Fourth of July party even before April bids its adieu. One of the biggest of the Southern California bashes is on the Queen Mary, and it is a night prized for its vintage charms and over-the-water fireworks show. If both of these things appeal to you, and you're eager to board the big boat for a celebratory summer night, then best know that...
TICKETS HAVE GONE ON SALE... for the All-American Fourth of July festival. For sure, "special historic tours" are part of day, if you want to peek at the famous (and maybe haunted?) boiler area of the landmark, and family to-dos, too. It isn't all about the after-sundown sky show, in short. Look also for "a patriotic theatrical movie in the Queen Mary Theatre," which is a feature that's unique to this Independence Day observance. And is there a hotel package, too, if you want to spend the night, and maybe encounter one of the ship's legendary phantoms? You bet.
THE QUEEN MARY... recently revealed an upcoming new development that'll include shops, restaurants, and activities. It's adjacent to the ship, and will keep to a certain vintage feel the landmark is known for in its theming. Want to know more? Dip your paddle in and steer over here.
Copyright FREEL - NBC Local Media