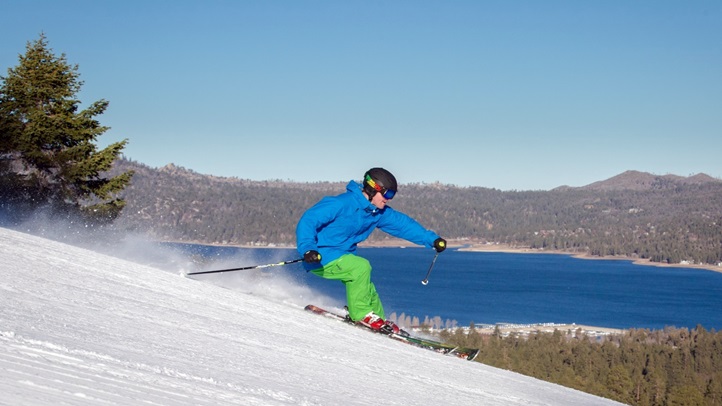 THE EARLY 2015 OPENINGS... at both Bear Mountain and Snow Summit -- a cold-nice combo of human-made snow and natural snow -- has set the skiing community abuzz, with calendars being brandished and phones being depocketed as friends decide when they want to meet up on the mountain of their choice. Once winter officially arrives, and El Niño is making more snowflakes (many, many, many more, if current reports hold water -- er, ice), those early-part-of-the-season deals, the ones that go out to remind people that the Big Bear Mountain Resorts are open, may dry up a bit (to further the water analogy). That's not always true, of course, as mid-winter specials have a way of plopping suddenly from the sky, like a giant hunk of snow falling from a pine bough, at many resorts, but hooking into some ski savings in November is a time-honored tradition. Big Bear is helping that tradition out with a super-quick, not-for-long deal, one that's going to say hasta and so long on Friday, Nov. 20 at 10 o'clock in the morning. The upshot? You'll score a $15 lift ticket.
25%-OFF LODGING... is also riding alongside this tenner + a fiver deal, if you're so inclined to stay near the slopes. What's the fine print? This is a Monday through Friday thing, and a non-holiday thing, too, and "(t)here is a limit to two ski lift tickets per itinerary." One golden bit to chew on? The lodging choices comprise a "wide range," so you may get a crack at bedding down at someplace new, as opposed to where you always have crashed in past years.
IF SKIING FOR A SONG... and sleeping for not too much dough appeal, check out the details of the $15 Lift & Discount Lodging Offer, when it is good through, your various hotel choices, the blocked-out dates, and such. By the by, Big Bear is referring to this as "the Godzilla El Niño Party," and you just might find the famous long-tailed fellow rocking a party hat on the Big Bear site. Will this be the last we see of this cinema superstar this winter? Probably not, as his name is now very much tied to the upcoming winter and the strong weather event that appears to be in full brew.
Copyright FREEL - NBC Local Media