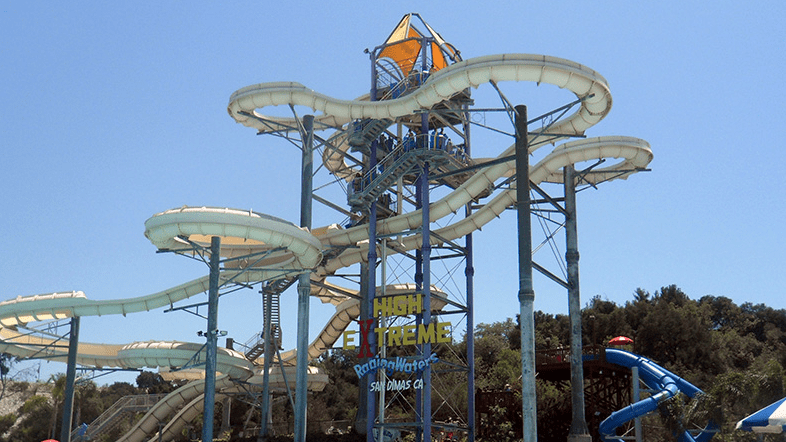 This article is sponsored by Raging Waters. It does not reflect the work or opinions of NBC Los Angeles' editorial staff. To learn more about Raging Waters, visit www.ragingwaters.com.



Summer is in full swing and that means it's time to beat the heat.
But instead of another beach weekend, why not up the fun with a trip to Raging Waters San Dimas, California's largest water park!
Home to 50 beautifully landscaped acres of slides, attractions and its very own sand beach, Raging Waters San Dimas offers family fun for everyone. Younger children will have a blast splashing around at Kid's Kingdom and Splash Island, while thrill seekers and mild riders will enjoy twisting and turning down some of the Southland's most thrilling slides.
Has all the adrenaline worked up an appetite? Raging Waters San Dimas offers tons of great places to eat like Pink's Hot Dogs, Carl's Jr., and more.
Of course all that is just an appetizer to this summer's main water ride.
Just opened, Aqua Rocket will be the first ever water ride in the state of California featuring new generation hydromagnetic technology.
"Imagine the adrenaline rush of a roller coaster and the thrills and spills of a water ride," general manager Chris Thomas explains. "Aqua Rocket is a blend of a roller coaster and log flume."
Aqua Rocket will take a four-person raft uphill, just like a theme park coaster, for a series of breathtaking drops, including one from nearly five stories high. The breakthrough hydromagnetic technology uses linear induction motors to generate powerful electromagnetic fields that propel the steel-bottomed rafts uphill.
"The ride begins upon entering the station, and preparing for launch. A team of four are loaded into a raft, and the ascent of 235 feet begins. Once at the top, guests will experience an exhilarating rush as they drop 55 feet, accelerating to speeds over 30 mph, before rocketing back uphill and down again. Each launch, each seat offers an exciting experience." Thomas says. "It is one of my favorite rides -- what's better than an uphill blast, fast turns and a successful splashdown?"
This new ride will be the largest single investment Raging Waters has ever made and is one of only a handful of such rides in the nation.
"We know Aqua Rocket will immediately become the most popular ride at the park," Thomas adds. "Raging Waters is already California's Largest Water Park and it just got bigger!"
Raging Waters is open daily. To book your family getaway, visit www.ragingwaters.com.