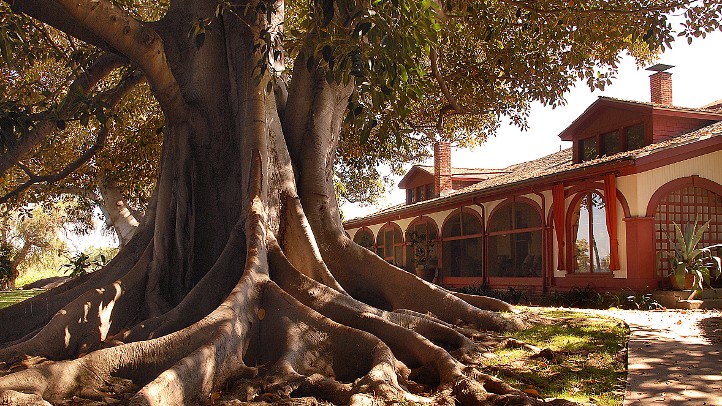 MEMORY AND PLACE: Many see Los Angeles as a robust and vigorous city interlaced with freeways and dotted with skyscrapers. That's true, but a number of important properties have been protected and preserved over the decades, and sometimes centuries, and they in turn offer living history portraits of how Southern California looked in an earlier, freeway-less time. Rancho Los Alamitos, one of the major historic sites, still sits in Bixby Hill in Long Beach. The spot once held a Tongva village, and later was the rancho of Manuel Nieto, a soldier who took part in a California exploratory expedition on behalf of Spain in the late 18th century. Today the historic property remains an impressively sized seven and a half acres (of course, that's nowhere near the thousands of acres a large rancho held a couple of centures back, but in today's metropolis, it is something for sure).
RESTORATION AND RENEWAL: Restoring such an important cultural structure takes time and care. Volunteers and staff and specialists spent over two decades tending to the buildings and grounds of Rancho Los Alamitos. The renewed property debuted to visitors on June 10, 2012.
WHAT CHANGED: The Rancho Center is one of the centerpiece's of the restoration. It is a 13,000-square-foot educational and programming space that has incorporated the property's 1948 barn. You know this barn if you know the property; it is a beauty. There will be other new touches that regular visitors will note, but like all good restorations the updates work with what was there.
MORETON BAY FIG TREES: We'll go out on a limb -- pun intended -- and call these some of the most famous and exquisite trees in Southern California. If you haven't seen them, and you like your impressive greenery, make a date. They're still there, on the rancho's grounds, as they will be for years to come.
Copyright FREEL - NBC Local Media