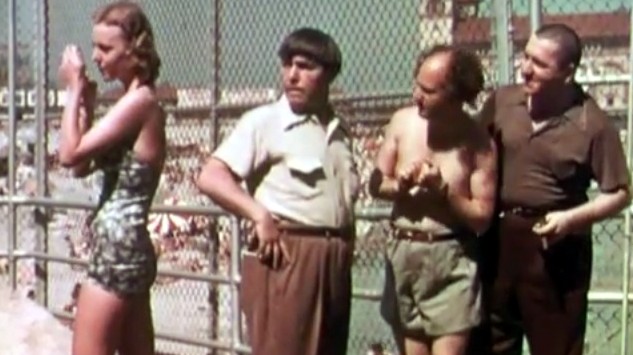 It can be wonderful and a bit discombobulating to see a location or person in a full color photograph when one is used to seeing that location or person only in black and white.
Take the beautiful Bunker Hill photographs of vaudeville star George Mann. You've likely seen silvery snapshots of the Victorian homes that used to dot a certain section of downtown, a section that's now rife with skyscrapers. But eyeing the long-gone homes in lavish reds and yellows and blues is a rarer treat. Mr. Mann captured many of those extinct buildings on color film.
He also did the same for the Three Stooges, it has now been discovered. Mr. Mann's son Brad found footage of the legendary trio making merry in Atlantic City in his father's effects. In fact, Brad Smith -- his mother remarried -- found about 50 reels of film in three storage containers, and, lo and behold, Curly, Moe, and Larry happened to occupy several frames of that film.
Call it a bonanza for Stooges scholars everywhere. And for Stooges fans, too; the two-minute-clip immediately shot up into the thousands-of-views space after being released on Friday, Feb. 24.
You can read more about this va-va-voom discovery and you can eye the rich Bunker Hill pics taken by George Mann over at On Bunker Hill, which is overseen by those history-loving, LA-championing Esotouric smarties.
Follow NBCLA for the latest LA news, events and entertainment: Twitter: @NBCLA // Facebook: NBCLA
Copyright FREEL - NBC Local Media