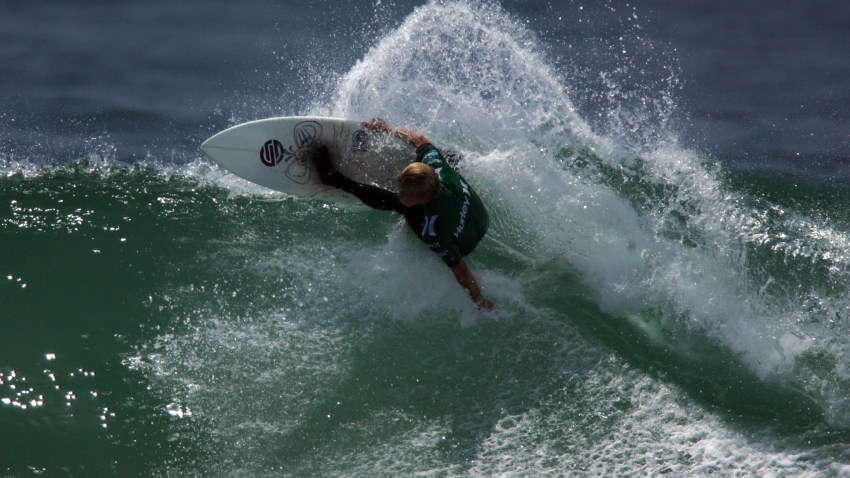 A big surf is set to arrive in Huntington Beach just in time for the wrap-up of the Hurley U.S. Open of Surfing this weekend.

A southern ocean storm off New Zealand is responsible for the swell that's expected to arrive Friday and pump up breakers to about 7 feet at south-facing beaches through the weekend, said National Weather Service forecaster Stan Wasowski.

"A few local sets near 10 feet are possible," according to an NWS advisory, which said there would be strong rip currents along south-facing beaches.
In the meantime, the surf should be 2-4 feet with long periods -- about 20 seconds.

The largest surf should be this weekend as the worlds top surfers compete for awards totaling $100,000, as well as ratings points toward a berth on the 2010 Association of Surfing Professional's World Tour.
Additionally, "the swell could combine with astronomical high tides around 6 feet Friday night to produce localized flooding across the Long Beach Peninsula and portions of Malibu," the NWS advisory said.
Local flooding could also materialize in Ventura County.

The swell will start shrinking Sunday and diminish rapidly early next week, according to the NWS.

Since its founding in 1994, 28 out of 30 men's and women's ASP World Titles have been captured by U.S. Open of Surfing champions.

Lifeguards are warning that only strong swimmers and experienced surfers should brave the big waves. Venturing out of breakwaters can be hazardous because larger-than-normal swells can suddenly flood previously dry areas -- especially when the tide is rising.
The heat wave, meanwhile, will persist at least through midweek next week, producing triple-digit temperatures in mountain, valley and desert regions.

"The hot and fairly dry conditions will continue to bring heightened fire weather conditions to much of the interior through the week," according to an NWS advisory.
Copyright Archive Sources