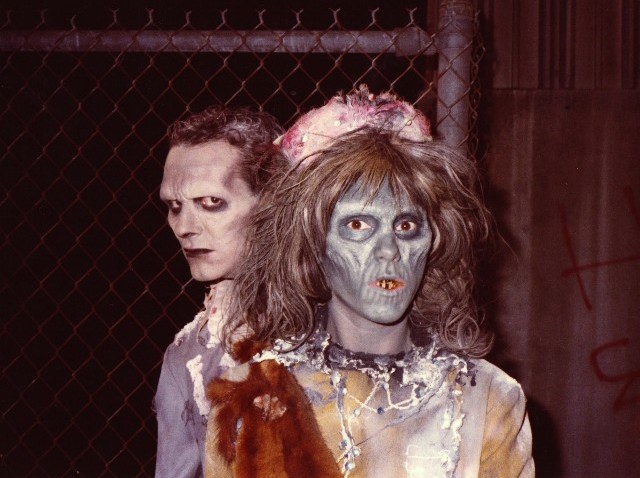 Truth: If we had gotten the chance to dance in "Thriller," in full, draggy, undead regalia, we'd probably tell everyone forever. It would be at the top of our resume, above the address and our name, and highlighted in gold and squiggles.
It's a dead nifty credit, is all, and dancer and teacher Kim Blank's got it. She was one of the grooving zombies in one of the most famous music videos of all time -- that would be Michael Jackson's 1983 opus "Thriller" -- and now she will be teaching all of those graveyard-groove moves at a class on Sunday, Oct. 30 from 2 to 3:30 p.m. at Swerve Studio.
You don't need to be a trained dancer to join -- "people who love to dance!" are welcome, says Ms. Blank -- and you'll learn the very "moves and the mood" that celebrated choreographer Michael Peters taught the zombies nearly three decades ago.
You know the "claws up" shimmy, right? Love that move.
Ms. Blank tells us that Mr. Peters warned her that "this wasn't going to be a glamor gig," when she got the job. But she says that she was "completely thrilled, excited, and honored to be working on this project...all of the creators were renowned artists at the top of their game, and all around me were amazing dancers I'd long admired."
"There are specificities in the quirky character of the moves and gestures, and in the rhythms that really make you concentrate...and then there was the need to be precise as a group...and more than precise...intense, in feeling and execution," says Ms. Blank. In other words, being undead is no easy walk in the graveyard, but that's no surprise.
She goes on to say that she continues to be amazed "at the immense impact the project has had on people."
A few quick notes before getting your moaning mojo on. The class is $20, and you will definitely totally and absolutely want to sign up in advance, as the zombie limit will be capped at 40. The notion of some sad, didn't-prepare zombies arriving on Halloween Eve at a sold-out studio doesn't appeal. So get your get-ahead info now. (Click on the "Workshops" tab near the upper right.)
One last thing. Should everyone leave the class afterward, and drag down to some of the brunch places along Third for an impromptu performance? Outside Toast or Doughboys? Maybe the Grove? It's Halloween. You'll be undead and brimming with groove. Why not?
Copyright FREEL - NBC Local Media