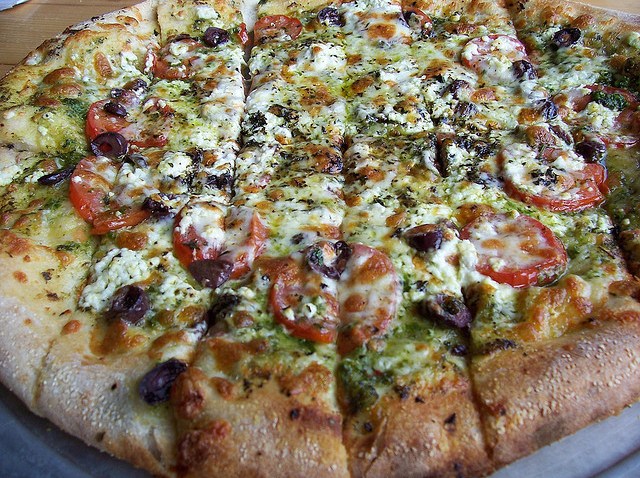 Soppressata Pizza
serves 8
Dough:
1/4 teaspoon active dry yeast
1 1/2 cups water
2 teaspoon olive oil
2 teaspoon salt
4 cups all purpose flour
Dough Preparation:
Combine dry ingredients in a bowl and set aside.
Combine remaining ingredients in the bowl of a kitchenaide mixer with hook attachment.
Add dry ingredients and mix on medium speed about 5 to 7 minutes until well combined (dough should be slightly wet but not tacky) turn dough out into an oiled bowl and cover with plastic wrap.
Let sit out 8 hours or overnight in a room temperature area.
Remove dough from bowl about an hour before cooking.
(quality, pre-made doughs are also available freshly made from your local bakery or grocer)

Mother Sauce:
8oz can san marzano peeled tomatoes, chopped
1/2 white onion, chopped
4 cloves garlic, peeled and minced
1 teaspoon smoked paprika
1 teaspoon olive oil
S&P

Sauce Preparation:
Saute onions and garlic in olive oil over medium heat untill translucent.
Add chopped tomatoes and cook on a very low simmer for 2-3 hours until sauce has thickened.
Season with paprika and salt & pepper.

Toppings:
2 oz thinly sliced soppressata or pepperoni (we recommend fra' mani piccante soppressata or whatever artisinal salumi is available at your local butcher or grocer)
2oz of fresh mozzarella, sliced into thin rounds
Assembley:
Pre-heat oven to 550 degrees.
For best results, preheat pizza stone as well. If you do not have a pizza stone, a baking sheet will work as well but yield a slightly less crispy crust.
On lightly floured surface, stretch dough to abtout the size of an 11-inch circle.
Spoon about 2oz of tomato sauce in the center of dough and spread until you have a thin layer of tomato sauce with about half an inch of crust.
Slice the mozzarella into rough slices and place intermittently around the pizza.
Next, place the soppressata as well intermittently around the pizza.
Pull out oven rack and very carefully place the pizza on the stone.
Cook about 5 -7minutes.
Carefully remove from oven, slice and serve hot.