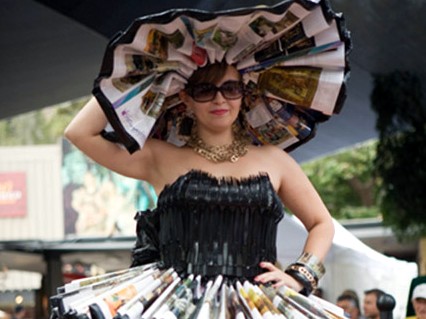 Laguna Beach's summertime arts offerings are so plentiful and so diverse that it can be a challenge for a single event to stand out.
Consider that the many to-dos are sharing summertime space with the famous Pageant of the Masters, which can rule the headlines with its "human-beings-frozen-in-famous-paintings" cachet.
But the also-huge Festival of the Arts has several interesting things going at once, like Festival Runway Fashion, which happens in 2010 on Saturday, July 31. Festival artists are asked to contribute creations for the annual show, but no mere cloth-and-notion'd outfits will do. Oh no.
This is the town where living people freeze inside friezes, right?
Rather, models will strut in clothing made from at least 80% recycled goods. Picture plastic bustiers and pop-top tops. There will be celebrity judges. There will be cash prizes for the winners. And general marveling of a sartorial nature.
If you go, know the Sawdust Arts Festival is still going on near the Festival (though they are not affiliated). As is the Pageant of the Masters. As is just about every lovely cultural thing that can fit inside Laguna's sandy/scrubby borders.
Copyright FREEL - NBC Local Media