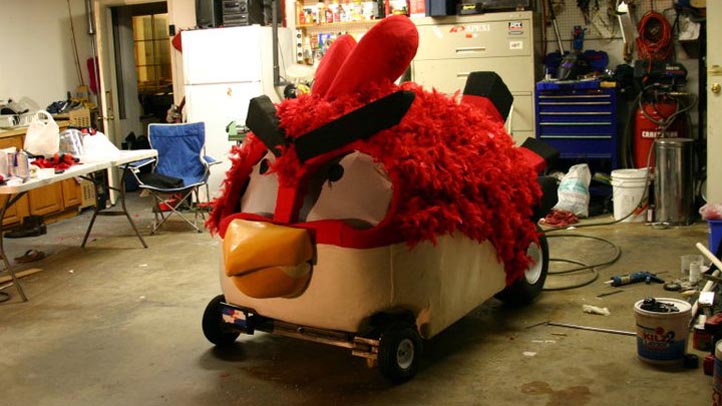 The Red Bull Soapbox Race may begin at 11 a.m. Saturday, but for many teams, the downhill competition started months ago.
Nathan Nguyen and his team of UCI grads spent every day for the last six weeks mixing fiberglass and foam to create a replica Angry Bird, the titular character from the record-breaking mobile puzzle game.
But unlike the video game, this Angry Bird is built on a steel racing chassis.
"We were trying to think of something funny that a lot of people could relate to," said Nguyen, team captain of Angry Bird Droppings.
Nguyen acknowledged his team is an underdog, but with a banked downhill track and plenty of crashes every year, these guys still have a chance.
"We've seen a lot of other good teams out there," said Nguyen. "We're just going to try our best. We're competing with a lot of people with a lot of money and resources."
Nearly 40 teams have registered for the race, sponsored by the energy drink company. The treacherous course speeds down Grand Avenue and takes a hard left onto 5th Street, a turn that in the 2009 event left many vehicles in shambles. In 2009, Team Ironheade set a new all-time top-speed record for the event at 46.1 mph.
Unlike the youth soapbox derby, this event comes equipped with a heavy dose of absurdity. Teams perform a 30-second skit at the starting line before taking off downhill. Each team is judged on speed, creativity and showmanship.
Chris Moreno said his team, Lakers Fan Wagon, started as a Halloween costume last year.
Moreno and his friend Hector Catalan traveled the clubs of Los Angeles winning numerous costume contests with giant, homemade paper-mache heads of LeBron James and Kobe Bryant. The pair brought in a total of $15,000 in winnings.
"It got so crazy," said Moreno, describing a night at Villa Sorriso in Pasadena. "So many people were trying to take pictures with us, they tried to kick us out. They said we were a fire hazard."
When it came time to design a soapbox car, it just made sense to parlay their costume success. They've even added a paper-mache Pau Gasol to the mix.
"For the whole skit in the beginning, we're going to use LeBron … he's going to try to creep," said Moreno. "We have a mock trophy. So he's trying to creep and try to get the trophy."
The irony of the Lakers losing in the NBA Playoffs while LeBron James and the Miami Heat are still in contention is not lost on Moreno.
"We're going to take it hard. The brakes suck, but we're going to take it full speed," Moreno said. "If we crash … we asked (LeBron) to jog behind and steal the trophy and keep running down the aisle."
The first-place team wins "an unforgettable NASCAR experience," including a tour of the pit and a meet-and-greet with Red Bull drivers.
While Moreno and crew are looking to win the People's Choice award, which includes a private showing of the race video, other teams are set on total victory.
"We have the creativity and the showmanship," said Raffy Sencion, team captain of The Baked Muscles, which will travel more than 200 miles to make the race. "I think we have a very good chance of winning."
The team -- made up of Trojan warriors armed with swords, shields and spears -- is based in Reedley, Calif., about 30 miles outside Fresno.
"We're going to flood the streets of LA," Sencion said.
For their opening skit, the warriors will come out to "classic '300' glory music." There'll be screaming, stunts and shield choreography.
The team remains confident, but no matter what happens, Sencion said they're expecting "just a good ol' time."
"Lots of people. A good show and a lot of fun."