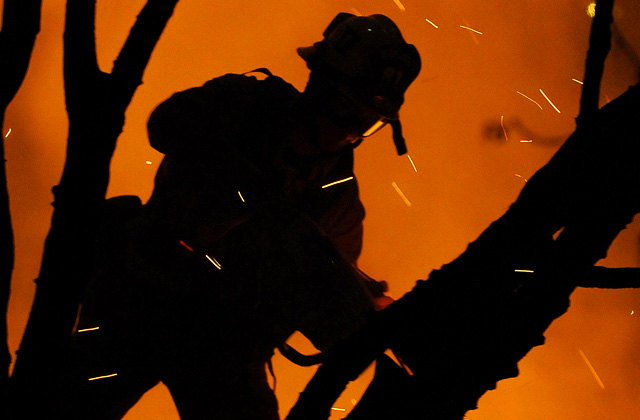 LOS ANGELES -- A red flag warning indicating a high risk of wildfire was canceled Friday for the San Fernando Valley and Los Angeles County coast, but remained in effect in mountain areas and the Santa Clarita Valley.
The warning, which went into effect last Friday and was extended several times since then, will be in force until at least 8 p.m. Friday in the Santa Clarita Valley and Ventura County coasts and valleys, the National Weather Service reported.
It also remains in force until 8 p.m. Saturday in Los Angeles and Ventura county mountains and Santa Monica range, the NWS reported.
The red flag warning was downgraded to a fire weather watch in San Fernando and Santa Clarita valleys Wednesday but restored to warning level Thursday.
The NWS said the warning reflects a continuation of the very low humidity that has plagued the region -- down to single digits for prolonged periods in some areas -- combined with gusty Santa Ana winds.
Winds "did not materialize" in some areas, however, leading to the cancellation of the red flag warning in those areas, the NWS reported.
At a time when frigid weather is bedeviling the Midwest and Northeast, the Santa Ana winds at the root of the Southland's fire scare generated high temperatures, with several records being set this week. The latest Los Angeles County heat record was set Thursday, with a high of 85 recorded in downtown L.A., breaking the record of 84 for a Jan. 15 set in 1976.
The NWS forecast highs Friday of 66 in Lancaster; 68 in Palmdale and on Mount Wilson; 69 in Newport Beach; 73 in Newhall; 75 in Avalon; 77 at LAX and in Anaheim; 79 in Pasadena; 80 in Burbank and San Gabriel; 81 in downtown L.A. and Long Beach; and 82 in Woodland Hills.
And the winds are expected to diminish further Saturday and Saturday night, with peak gusts at or below 40 mph Saturday night through Monday.