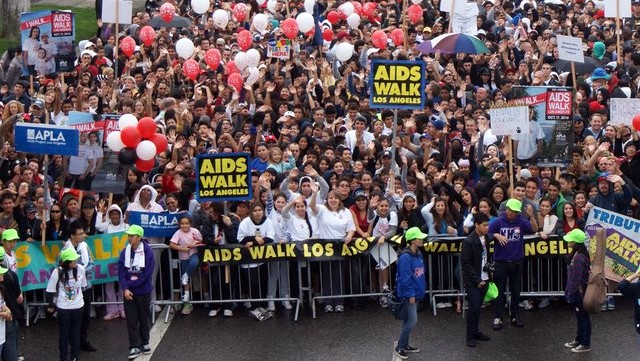 There's something about the week before a major event, an event that requires people to register, that can daunt people. Not everyone, mind you, but sometimes interested parties will look at a large happening and think, "oh, registration must be wrapping for that. The teams have been formed and the money-raising picnics are over and once again I am too late." Sighs are then sighed.
This mindset certainly doesn't apply to AIDS Walk Los Angeles. This is an event which keeps the registration goodness going right up to the day of the walk. Yes, teams formed weeks ago, or even months; some have been around for years. But individuals are still welcome, as are people donating from afar.
The 2011 date for the West Hollywood-based walk is Sunday, Oct. 16; it looks to be a bit sunnier than last year's damp outing (still, though, lots of smiling, plucky faces from the 2010 walk in all the pictures). Drew Carey, Dot Marie Jones of "Glee," Pauley Perrette, and Cloris Leachman are all set to show. Expect other celebrity cameos, too. You might be walking next to someone from a favorite hour-long. It's a spirited, convivial day full of heart and lots and lots of people.
Here's your registration form and here's more info. Not walking but still want to give? Find what you need here. There are "dozens of benefiting organizations" that your money will help. Read more now.
Editorial Note: NBC4 News is a sponsor of the 27th Annual AIDS Walk Los Angeles.
Copyright FREEL - NBC Local Media