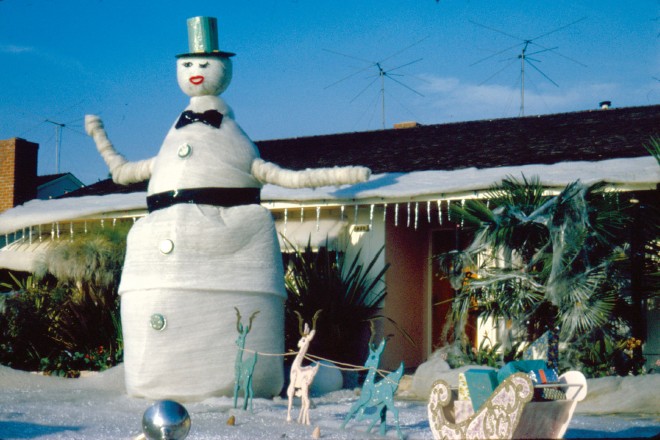 Charles Phoenix, that droll, smart, history-loving, slide-collecting commentator on all things Americana-y, suburban-ish and strange, ties on the skates and breaks out the slide projector at the Moonlight Rollerway on Saturday, December 13 and Sunday, December 14. His annual Holiday Jubilee shines a spotlight on old-style, at-the-rink fun (there's even a Hammond Organ player on the scene), so if you can skate like an ace, or if you're a committed wall-hugger but want to try, the oval will be open. (Attempting the Hokey Pokey is entirely up to you.) Bonus: Costumed skaters representing the major holidays will also be on the rink, so prepare to be Dazzled, with a capital D. Another bonus: Free snack bar treats will be served!
Need a break to catch the breath? Straight-from-the-thrift-store slides -- Phoenix's famous forte -- are the colorful centerpiece of the Jubilee. Guffaw over holiday-themed photos from the '50s, '60s and '70s, gems Phoenix has been stacking up for years. There are many memorable slides in his stash, such as the humongous snowman looming over a quiet house, or the tree that practically can't breathe for the copious amounts of tinsel draped upon its boughs. Our favorite part is Phoenix's razor-sharp commentary, which is always spot-on.
While you may not know anyone in the pictures (although sometimes audience members do), you'll certainly recognize the themes: wonderful-if-trying family get-togethers, outlandishly decorated foodstuffs, brothers and sisters smiling awkwardly in brand-new Christmas pajamas.
Charles Phoenix's Moonlight Rollerway Holiday Jubilee
Saturday, December 13, 8PM and Sunday, December 14, 3PM
$35
Moonlight Rollerway, 5110 San Fernando Road, Glendale
818-241-3630
Copyright FREEL - NBC Local Media