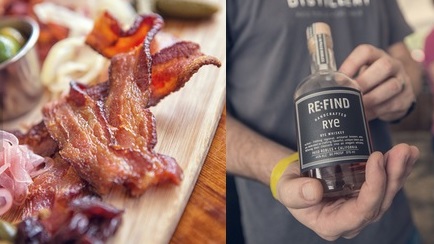 WHEN WAS THE EXACT MOMENT... that bacon, with bravado and cuisine-changing oomph, leaped off the breakfast plate and into lunch and dinner immortality? Maybe 6:25 in the evening on July 10, 2005? It's hard to pinpoint the moment the big shift arrived for the salty strip, once considered a zingy accompaniment to scrambled eggs and toast and little else. We know, we know BLT-ists -- bacon has always played a part on later-in-the-day menus, in sandwiches and the occasional quiche, too. But sticking it in a Bloody Mary, or atop a cupcake, or in a milkshake, or weaving it to form a salad bowl is all fairly this-century-esque.
OFFBEAT BACONRY: Thank social media and bacon-dedicated blogs for this rise to gourmandian greatness, and thank major events like Bacon & Barrels, a happening so large and so chefly that it goes down in two cities, San Diego and Solvang. It's an envelope-pusher, all righty, or, rather, a plastic-package-pusher (or whatever the official and important name is for the see-through sleeve that contains bacon on store shelves). Why? Because the cupcakes, the cocktails, and all of the whimsical paths bacon is taking these days shall be taken, in full. First up in San Diego, on Saturday, May 9, and let us not forget the second word in the title...
BARRELS: Which means that bourbons and beers and other deep-depth-y drinks that start their journey inside a cask of some sort will also play a role. Again, this is a new-new thing, still; remember when bacon was only consumed alongside coffee or orange juice? Look for chef demos, mixology demos, competitions, live tunes, and basically anything that is bacon-esque or would further enhance a libation that can put "has been in a barrel" on its résumé. Tickets for the San Diego confab? They're fifty bucks. If you can't do it, though, or want to do both soirees, Solvang sizzles its bacon from July 17 through 19. Nicest of all? There are beneficiaries for the day, so watch a portion of your San Diego ticket help out programs like the Create Community Foundation.
Copyright FREEL - NBC Local Media