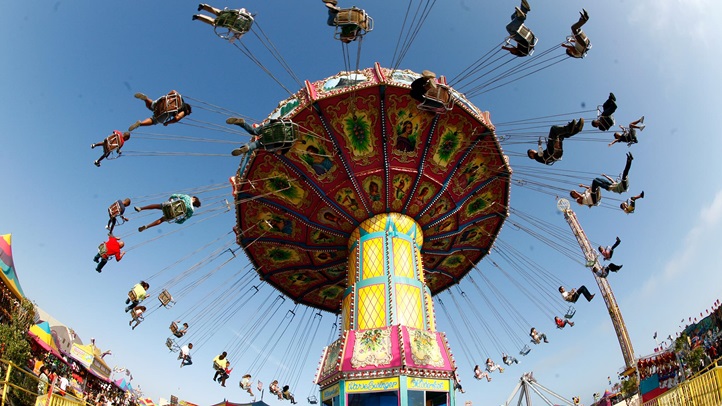 RIDES BY THE WAVES: County fairs are often depicted next to great fields of corn and great fields of hay and great fields that serve as pop-up parking lots when the Ferris wheel and Tilt-A-Whirl roll into town. We here in the Golden State know that this picture isn't quite accurate. We have a few county fairs in the desert -- including one in the very uncounty-fairish season of winter (hi, Riverside) -- and we have a couple that are close to the Pacific. Very, very close, as is the case with the Ventura County Fair. You could surf, get sand in your hair, and eat something fried, all within a single morning, if you put your mind to it (and, really, you should, if surfing, hair-sand, and fried foods are your thing). It's a nicely sized spectacular, too. Nope, we're not being polite and tut-tut-ing the fair. There's plenty to do, but it isn't an overwhelming day, either, if you arrive early and stay hydrated (perhaps hydrated from your ocean swim). Tempted? Yep, you should be. The fair is ready to twinkle, in the way fairs do, from Wednesday, July 31 through Sunday, Aug. 11.
THE CLASSICS TO THE NEW: You know the midway will be midwaying things up -- can't you hear that calliope-type music now? -- but there are other classics to keep an eye out for: Photography, Large Livestock, Horse Shows, and Gems and Minerals make up four distinct sections, but there are more. It's good to visit an area you never see. Maybe Floriculture? Do it after your corn dog and soda.
THE ENTERTAINMENT: Hall and Oates are on the schedule, as is Styx, Ramon Ayala, Hunter Hayes, and Kook and the Gang. (And more! Hi, Air Supply.) Rodeo and motor sports round it out.
A TICKET? That's twelve dollar for attendees age 13 and older.
Copyright FREEL - NBC Local Media