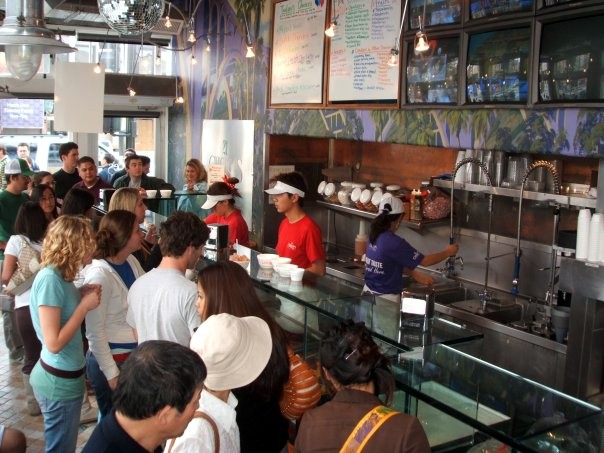 Call it Lobster Roll Envy.
Or chowder-based covetousness. Or any regional Eastern food + any synonym for the word "jealous." We've long had a bit of that when reading Roadfood, the eat-near-the-asphalt empire founded by writers Jane and Michael Stern and lent copious support from Stephen Rushmore.
Roadfood has always been good about shouting about all of America's regional foods, but whenever we pop by the site we seem to read a lot about lobster rolls. Maybe we have a genius for landing on the lobster roll section. And the New England section, too (the Sterns are famously associated with Connecticut).
But now Roadfood has turned its fork and knife on Southern California treats, which replaces our jealousies with want-to-eat-these. In recent days we've seen spotlights on the Fresh Peach Donut from Glendora's Donut Man, the Circus Animal Frozen Yogurt from 21 Choices in Pasadena, and some love for the Slash X Cafe in Barstow (where one burgers up ahead of Sin City).
That Fresh Peach Donut couldn't be any more glisten-y or peach-fresh. It's even putting lobster rolls out of our thoughts, for the time being. Those butter-sodden rolls always return. Always.
Copyright FREEL - NBC Local Media