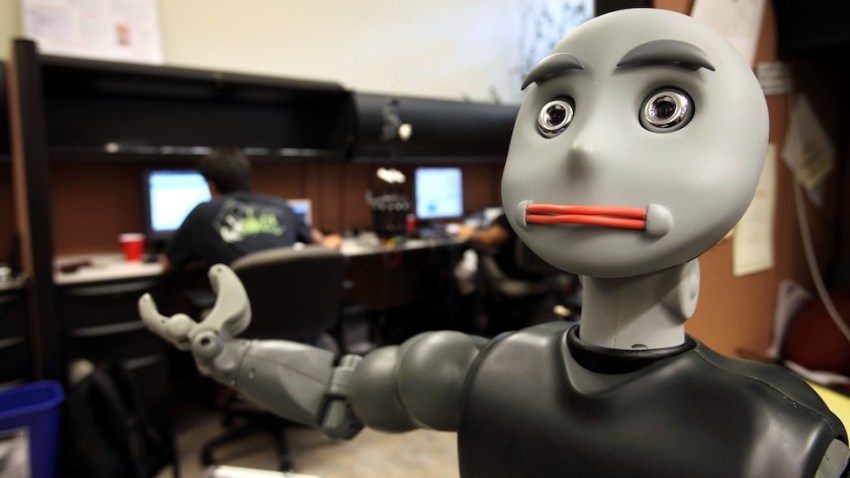 Many of us work in or adjacent to the movie business, which means that our whole relationship to robots can be, well. A bit fantastic, as in fantasy-driven.
Sure, there may be a robot out there who mixes his boss martinis at 6 p.m., on the dot, every evening, but most machines created to assist humans don't know vermouth from gin. Rather, robots are engaged in a host of important tasks, such as exploring underwater worlds and working in space technologies. And not all of them are humanoid, which is something we constantly have to wrap our movie-loving minds around.
Our best bet, then, is to get to the USC Viterbi School of Engineering on Thursday, April 12 for its annual Robotics Open House.
"Robot wheelchairs, nanorobots, underwater robots, flying robots" are just four types of machinery that will be featured during the get-to-know-your-robots event; and, yes, there will be humanoid and "social" wonders in the house. Robotic arms will be on display as well.
"USC is the largest center for robotic research in Southern California," says the open house announcement. Next up for the Viterbi School? Further research in the field of socially assistive robots (the National Science Foundation just granted the school $10 million dollars to get building).
You'll want to head through Gate 6 off Vermont Avenue and make for the Ronald Tutor Hall; hours are 10 a.m. to 4 p.m. And be sure to say hey to the humanoid 'bots for us, but please don't ask them to mix you a Manhattan. Let's let our movie robots attend to the cocktails while our real-world machines help us help ourselves.
Follow NBCLA for the latest LA news, events and entertainment: iPhone/iPad App | Facebook; | Twitter; | Google+; | Instagram; | RSS; | Text Alerts | Email Alerts
Copyright FREEL - NBC Local Media