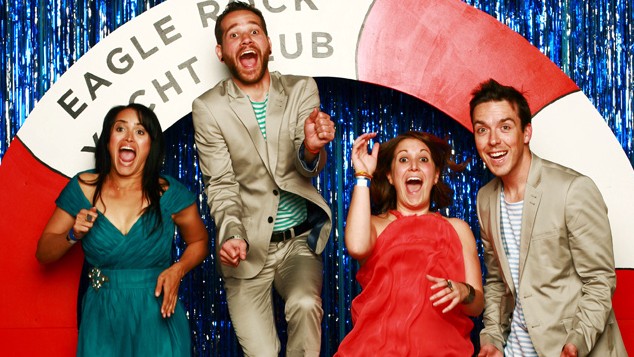 Regardless of our differences, we can all agree on a few things in this life.
1. Dance parties are awesome, but dance parties with the word "awesome" in their name multiply the awesome factor by 12.
2. Helping our fellow Angelenos get exercise and learn new things is a nice thing to do.
3. Recreation centers are important to the community.
With that in mind, nice party-loving outfit The Yacht Club is throwing the Sadie Hawkins Dance Party of Awesome on Saturday night, Aug. 25 at The Carondelet House downtown. It is, indeed, about an open bar and "fancy finger foods" -- and as you can see from the photo, people like to gussy up and jump, too -- but it is will also raise funds for programs at Los Angeles recreation centers.
Please. The first time you ever made an artistic collage for your mom was at a recreation center, or played dodgeball, or learned how to plant a bulb. They're important, is what, but we can forget that if we're past childhood and don't regularly visit nowadays for classes and instructions.
Which makes us pause to say we should all be using our recreation centers.
Perhaps the Sadie Hawkins Dance Party of Awesome will inspire that. Figure that after a night of socializing, a lot of the party goers'll be like, yeah, it is fun to hang with people and do interesting things. Which, really, is at the heart of our city's recreation centers, that community-learning aspect.
Follow NBCLA for the latest LA news, events and entertainment: iPhone/iPad App | Facebook; | Twitter; | Google+; | Instagram; | RSS; | Text Alerts | Email Alerts
Copyright FREEL - NBC Local Media