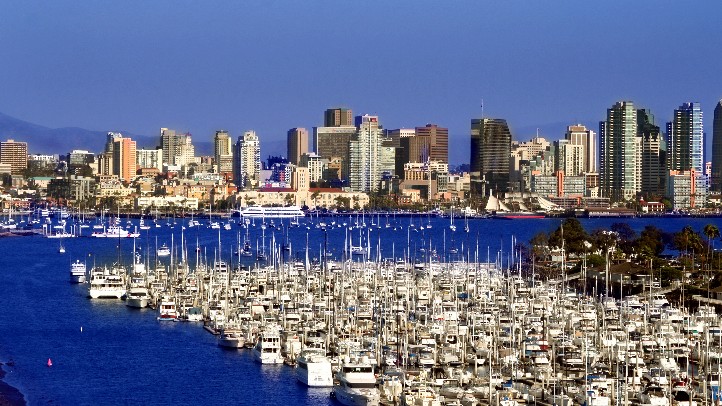 Your costume is ready, and you have your ticket, and you've mapped out your schedule. But you have that big hole on Saturday morning. Dang. How will you spend all that time that isn't dedicated to Comic-Con International? Here are five quick get-out-and-see-San-Diego-and-its-environs suggestions.
OPENING WEEKEND: It's weekend number one at the oh-so-historic Del Mar Race Track. Do you love the ponies? Do you want to see where Seabiscuit gallop? Make for Del Mar. There's a train station nearby, note. And note the season only runs for seven weeks.
STAR WARS at LEGOLAND: Surely you heard about the thousands upon thousands of little bricks that went into creating over a half dozen scenes from the series? We want to see that very impressive, not-tiny-at-all Millennium Falcon. It opened last spring. Find it in Carlsbad.
SAN DIEGO MUSEUM OF ART: There are a trio of current exhibits going on now. Get to the Balboa Park institution if you're keen on Stickley, soft French landscapes, and the Great Spanish Masters (ohhh, Dali). Find more info on both temporary and permanent works.
MUSEUM OF MAN: It's not too far from the San Diego Museum of Art -- meaning a breezy, balmy Balboa Park picnic may be in order -- and it is also filled with wonders. "Modern Day Mummy: The Art & Science of Mummification" opened on June 11.
WHALEY HOUSE: We have a hunch that a lot of Comic-Con fans make the trek to this Old Town landmark due to its celebrated status as one of the most haunted places in the country. Word to that. But this antique-filled building also offers a compelling peep into wayback San Diego, and is well-worth a look for history and haunty fans alike.
Copyright FREEL - NBC Local Media