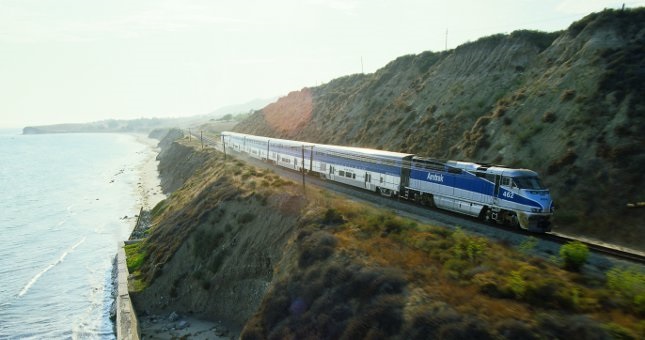 IT'S THE GETTING-THERE: We're often told it is the journey, not the destination, that we should focus on. That ol' chestnut definitely comes into play when what's at the destination is so appealing and money-saving-ish and delightful that we can only hope the journey can match. It does in the case of the large-scale Kids Free San Diego happening, a region-wide event that fills up all 31 days of October. The upshot? Museum after hotel after animal park after science center after museum waives admission or offers discounts on kidly admissions and rides and stay-overs. It truly is non-doable, to do everything offered over a single month, given that the freebies and deals push into the 90s (meaning you'd have to try about three to four things a day, over the whole month, so, yeah, boyyyy howdy, that's a lot).
BUT... getting down to all of those free child admissions is another matter, but one that has not been overlooked in the overlook-nothing event: Amtrak is in on the fun, and is offering a free ride to any kid between the ages of 2 and 12 with a paid adult rail fare. See ya car, hello ocean views. Oh, wait: Did we mention this is the Pacific Surfliner, a train which, by its very name, runs cheek-by-wave with a particular ocean to our west? At least for a good chunk of the ride? Yep, you're on the Surfliner.
AS FOR THE ORIGINATING STATIONS? Well, they run up to San Luis Obispo, so, no, you don't need to start just north of San Diego, say, in Del Mar, to score that free ticket for your tot. There are other transportation goodies during the month, from Hornblower Cruises to the Old Town Trolley Tours of America. What's your child want to do? Call them over and scroll through all the choices together. San Diego, being biggish and way dynamic and brimming with brainy, looky stuff, is offering plenty during the save-money, October-long event. Thank goodness your train ride is in the bag.
Copyright FREEL - NBC Local Media